Inspirational Story of Yasmin Shaikh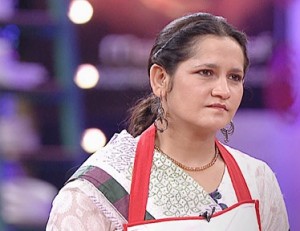 Meet Yasmin Shaikh, the woman who has come to MasterChef with an intention of creating a new life for her children and herself. Yasmin Shaikh's husband was convicted and was sent to prison which made Yasmin and her children become the cast outs of the society.
In order to make ends meet, Yasmin has done several small caterings and other jobs. Yasmin always had great admiration towards the three judges of MasterChef. She loves to cook chicken biryani the most because her children love it the most.
Yasmin was forced to marry Mohammed Sadik by her father who wanted to get rid of her due to economic conditions. Her husband who had a background of gambling and criminal offence was soon arrested.
Yasmin who suffered a lot of physical and mental violence with her husband was forced by her in laws to create a fake alibi for her husband and to help him get out of prison.
Yasmin refused to help her husband who was arrested for the rape of a 6 year old girl. She stated that her mother was her motivation to remain always truthful in her life.
Due to her moral grounds, Yasmin was again abused by her in laws for not lying to help her husband. After that, Yasmin moved out to live separately. She took a double shift job and pursued her B.sc degree.
She had a job of being a cook for 250 children.
Yasmin now had a change in her life after she became a participant in MasterChef India. She is one of the favorite candidates for the judges.
What's new at WeRIndia.com