High School Dropout sets World Record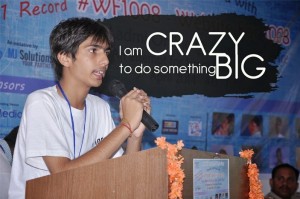 School dropouts are generally considered failures in our society. But, meet Mohit Jain, who has set new records in the world of web designing. He and his team have successfully attempted a record in the LIMCA book of world records by creating 36 websites in less than 14 hours which includes a break time of 1 hour 17 minutes.
Mohit Jain was already known for creating a website for Anna Hazare to fight against corruption. He has done this with the help of his online met friend who was also part of the team which set the world record.
The team called WF1008 team wanted everyone to be online, which was the motive behind attempting the record. Their tagline was "Har Aadmi online @ Aam Aadmi Price" which translates to every man being online at a price affordable for a common man. The team is now waiting for LIMCA team to accept their achievement.
What's new at WeRIndia.com