Heartbreaking story of quarantined Kerala man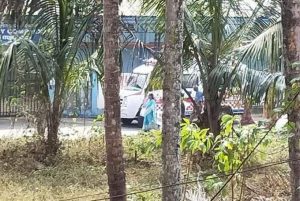 Pandemic of COVID-19 is taking the lives of many people across the globe. Most people identified with coronavirus positive are quarantined. Many heart-wrenching stories are associated with these people.
Here is the heartbreaking story of a Kerala man who has been suspected with COVID-19 and quarantined.
Lino Abel, a 30-year-old man is working in Qatar. His father fell from his bed while sleeping at home and was admitted to the hospital. Hence, Abel returned from Qatar on March 8.
As Qatar is one of the COVID-19 affected countries and Abel had some symptoms of cough, he reported to health authorities and was admitted to the isolated ward in Kottayam.
Due to coronavirus scare, he did not meet either his father and his relatives. The next day, he heard that his father had a stroke and passed away during the treatment. Both the son and the father were in the same hospital but different wards.
Unfortunately, Abel could not meet his father due to the isolation protocol. He could only watch his father's dead body from the window of his isolation ward with tears. Sadly, he could not even attend his father's funeral rites. He watched it through a video call.
Abel shared his sad experience and said that had not he reported himself to the health authorities he would have managed to see his father. But, he decided not to spread the virus if he was infected with it. Due to strong determination of not spreading the virus to his family or the people of his region, he isolated himself and missed the opportunity to see his father even though he came for him in the first place.
His test results that came on March 14 revealed negative for the coronavirus. He was discharged from the isolated ward and returned home depressed.
Image Reference: Indiatimes
What's new at WeRIndia.com