Gujarat principal's idea to reduces school bag weight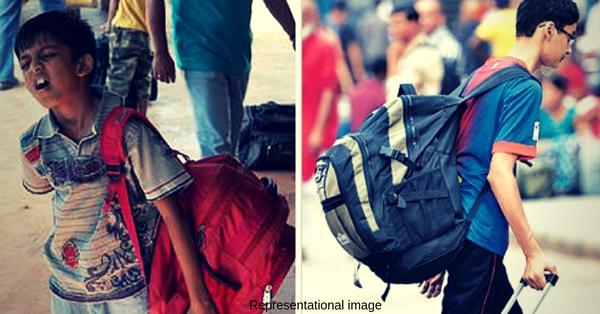 As per the Children's School Bags (Limitation on Weight), Bill of 2006, the school bag's weight should not exceed more than ten per cent of the child's body weight.
The Bill also directs all state governments to make sure that schools provide lockers in school to store their books so that they can avoid carrying an overload of bags.
However, in reality, most of the schools are not following the rule. As a result, children have to carry huge luggage more than their body weight.
But, this Gujarat school principal is strictly following the rule. Anandkumar Khalas, the Principal of Bhagad Government Primary School wanted to reduce the weight of school bags.
His idea reduced the school bag's weight drastically. He organized the pages of the syllabus into ten books. Each book covers a month of the syllabus.
Students need to carry that particular book in a specific month. In that way, they need not carry entire textbooks throughout the year.
His idea may seem small, but reduced the burden of school children a lot.
Anandkumar said that he got this idea after he saw the burden of his daughter's school bag.
He used to drop her at the bus stop and found that she was feeling it hard to carry her heavy bag. He then wanted to do something to reduce the burden of school bags.
He discussed it with fellow teachers and decided to segregate textbooks into many parts as per the syllabus.
There is another school in Kolkata, La Martiniere for Girls which also had a similar initiative.
The students are provided with handouts which contain the important points and summary of the topics taught in class.
This model is used for students from classes I to VIII. Students of class IX and above grades would have lockers in schools to keep their books in them.
Image Reference: Thebetterindia
Recent Posts

Amla Magic: 8 Ways Indian gooseberry transforms your hair

Here are 8 effective ways to incorporate Amla into your hair care routine.

BJP's Ishwar Sahu, a riot victim, triumphs in Chhattisgarh's Saja constituency

During the election campaign, Ishwar Sahu did not shy away from addressing the tragic events.

Bhopal's Sankat Mochan Hanuman temple dresses Gods in warm attire

In a unique and heartwarming gesture, the Sankat Mochan Hanuman Temple in Bhopal, Madhya Pradesh, has adorned idols of gods, including Lord Hanuman, Lord Ganesh, and Lord Shiva, with warm clothes to shield them from the cold winter air. A video capturing this thoughtful act shows the deities donning shawls and cozy attire inside the temple, reflecting a blend of spirituality and seasonal care.
What's new at WeRIndia.com