Flower seller Performs Funerals of Uncared Bodies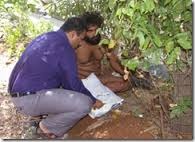 Shantakumar, a flower seller from Coimbatore cares about the unclaimed dead bodies by performing funerals and other rites. He has been doing this for many years when he saw that the unclaimed bodies were taken away like waste and are buried in a single pit in a dumping ground.
Shantakumar who supplies flowers for occasions like weddings claims human bodies should have some value and should not be treated like waste. He established a trust called 'Thozar Trust' in 2004 with his fellow flower sellers. The word 'Thozar' means friends in Tamil.
So far, Shantakumar has carried out more than1500 funerals. It costs around Rs. 750 to Rs. 1,000 for each funeral and he collects the money in the form of donations among themselves. Other forms of support like providing ambulance at subsidy and other funeral rites at low costs is received from local community. Shantakumar sees no pain in doing this service. He states that he will continue this as long as he has strength in his own body.
What's new at WeRIndia.com