First woman pundit that performs marriages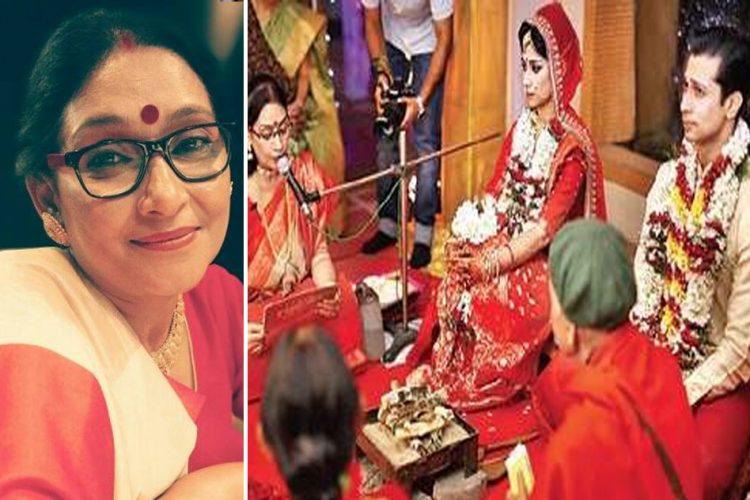 Have you ever seen a priestess perform marriages? Can you imagine a traditional Hindu wedding without the ritual of 'Kanyadaan'?
But, here is a priestess that performed 40 marriages in the last 10 years.
Nandini Bhowmik is the first priestess of the country. In the dominating patriarchal society and field, she sustained by solemnizing a wedding ceremony, without performing the practice of kanyadaan.
Kanyadaan literally means the gifting of a bride to the groom by her father.
Now-a-days, some girls are opposing this practice saying that a girl is not a property to be gifted. Nor do the husbands have every right on them after marriage.
Hence, Nandini's marriages are preferred by some people.
Nandini Bhowmik is a Sanskrit teacher at the Jadavpur University. She is well-known due to her unique profession.
She also performs inter-caste, inter-religious, and inter-ethnic marriages in Kolkata and its suburbs.
She simplified the Sanskrit hymns by converting them into English and Bengali to be chanted by the bride and the groom.
Some scholars say that Hindu scripture never barred women from becoming priests. Multiple references can be seen that many priestesses participated in religious events in the Vedas.
Nadini is again in the limelight due to a wedding ceremony performed by her three days ago.
The pictures of this wedding are rounding the social media.
While performing the marriage, the bride's name was introduced as the daughter of her mother first followed by her father.
The bride's father also said that he wasn't doing kanyadaan as his daughter was not a property to give away.
Many people on social media appreciated the family and father stating that this move was progressive, while some others objected the wedding without the ritual of kanyadaan saying it is against Hindu traditions.
Image Reference: Thelogicalindian, News18
What's new at WeRIndia.com