Elderly woman makes unique hand-crafted dolls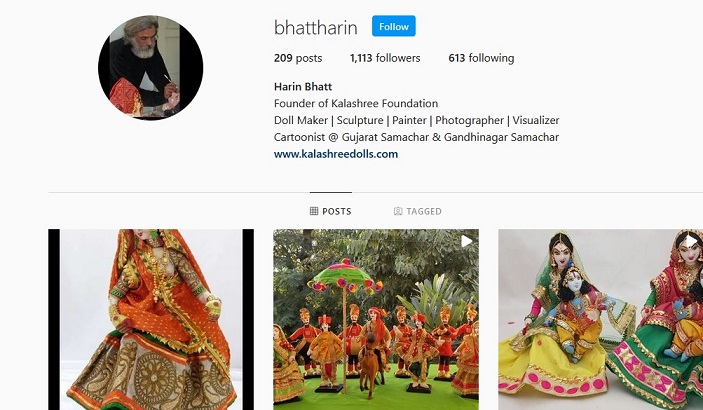 Children like toys and dolls. Many children play with the Barbie doll since it is one of the most-selling dolls. Besides, doll means the Barbie doll to many children as they don't know other varieties of dolls.
This elderly woman to change it. Ranjanben Bhatt, a 78-year-old woman, wants to make ethnic dolls that represent Indian culture. She used to handcraft the dolls before she turning her hobby into a business.
Ranjanben and her son Harin Bhatt started an organization, Kalashree Foundation, 25 years ago, to create unique handcrafted dolls. They have a team of 20 women. Currently, the mother and son duo makes 500 dolls a month with the support of their team.
Ranjanben learned doll-making, tailoring and hand embroidery at Arunaben Desai's Vikas Vidyalaya. Then she started making dolls. Due to her husband's job, her family moved to several places across the country. At last, they settled in Gandhinagar. She trained around 8,000 women in tailoring and doll-making.
Later, her younger son had been to the USA for his job. He asked his mother to make puppets for a play.
She made around 20 dolls and gave her son. The dolls were exhibited at a town hall in New Jersey and received the applauds of many people. Then her elder son Harin wanted to expand her mother's hobby into a profitable business. That's how Kalashree Foundation emerged.
The mother and son make different patterns of hand-crafted dolls. These dolls are made of cloth. The doll-making process has different parts like sculpting, tailoring, painting, costume designing etc. It takes around 18 hours to make a doll.
The team made more than one lakh dolls till now. They make different models of dolls that reflect the culture of India. For instance, some dolls are crafted into farmers, some others into dancers and so on. The organization has more than 4,500 customers in 18 countries across the globe.
Image Credit: Harin Bhatt Instagram page Screenshot
Image Reference: https://www.instagram.com/bhattharin/
What's new at WeRIndia.com