Education Defeats poverty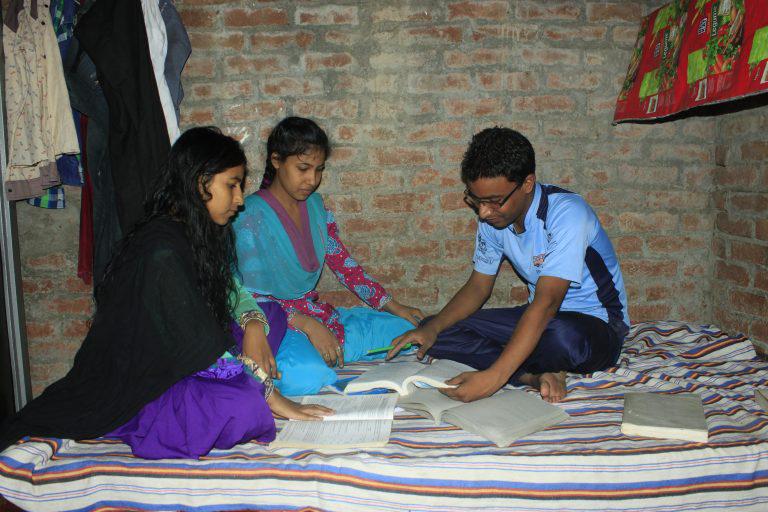 The tale of Mohammad Barkhat goes to show the power of education. Being the eldest son in his family, his family strongly discouraged his desire to pursue education. They wanted him to work and raise money. His family has always been living in poverty. They had to leave their native village in Bihar (Pachadi) to find some livelihood.
His father started earning a steady income of Rs. 5,000 per month and the entire family moved to Delhi where they put up in a jhuggi (mud hut) at Shriram Colony in Rajeev Nagar. This is an area for many similar people. Children are sent to work in factories or other homes to earn money.
When Magic Bus began their operations in Khajoori Khas, Barkhat was one of its first volunteers. He was inspired by his mentor Sultana and joined the organization. He was good at dealing with children and teaching them. After finishing high school, he was told that he has to fund his own education if he were to continue it.
He gave tuitions to children and realized his love for teaching. After completing his 12th standard, Barkhat got a job in Magic Bus as a Youth Mentor. The job was very helpful to his family which was financially weak. The Rs 7,500 that Barkhat earned was very helpful.
Barkhat's role as a Youth Mentor made him famous in the community. He soon received the role of Training and Monitoring Officer with a salary of Rs. 15,000. It meant he had to work with 3,500 children in two government schools. He was happy to do the job.
The increased income helped him become a proud BCom graduate from Delhi University. He is still working as a Training and Monitoring Officer and empowers underprivileged children through education. Despite all the opposition he got, today he is hailed in his community for his work.
Image Reference: TheBetterIndia
What's new at WeRIndia.com