Chennai entrepreneur earns lakhs growing microgreens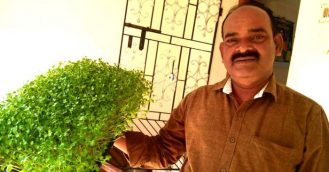 The increased health-conscious among people has led to exploring ways to get all essential nutrients required to the body. It is difficult to get all the vital nutrients with a single food item.
Micronutrients can solve the purpose to some extent. They provide all vitamins and minerals to the body along with fibre. At the same, they ensure no weight gain on consumption.
Hence, many people are opting for microgreens for consumption. Microgreens can be added to salads.
Some people are growing microgreens for themselves while others choose them as their profession.
Vidhyadharan Narayan from Chennai started growing microgreens due to their nutrients. He turned it as his business.
He started with an investment of ₹15,000 in a 10×10 room. He earns around ₹80,000 per month which means more than 10 lakh rupees per annum.
Narayan is a social worker. He started his firm at the end of 2018. His firm Sakhi Microgreens supplies nearly 45 kilograms of microgreens per month to supermarkets and restaurants in Chennai.
He started the business of microgreens in 2014 to improve his income when he was facing financial troubles.
Before that, he joined a local NGO and worked for 10 years. Then, he joined with the Tamil Nadu Alliance for Right to Education where he worked for four years.
Narayan does not have a farming background, but he was interested in farming and wanted to pursue agriculture. He bought a one and a half-acre of land in Uthiramerur, Tamil Nadu.
He then hired a few farmers to work on his fields and used to visit the land on the weekends. But, it ended up with a loss which eventually led him to focus on travel and tour business. His time was bad and he sold his two cars due to losses.
Then, he researched market trends and started growing microgreens. He bought seeds, trays, coco peat, and vermicompost from various stores and started his business.
He does not have a team. He and his wife manage all things from sowing seeds to packing the microgreens.
Image Reference: Thebetterindia
What's new at WeRIndia.com