Amazing women artisans fighting poverty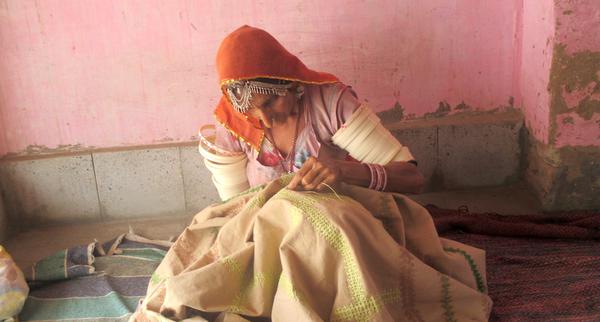 The women of Dandkala in the Kolayat block of the Bikaner district of Rajasthan have fought their war displacement and poverty through taking ownership of their embroidery, which has made them their families' breadwinners.
First allotted land for seventeen years by the Rajasthan government in refugee camps, the villagers migrated to cities when the worst drought of the century hit West Rajasthan, wiping out half the livestock and leaving the families desolate.
The families had no choice but to cultivate the previously uncultivated land they had been allotted, which was tough and dry, without plants, shade, or water, and the drought only multiplied matters more.
The women around shared a skill in Kashida, a type of embroidery with styles such as soof, pakka, and kharak, but around the village, the middlemen were exploiting them for their situation and not giving the true value for the cloths.
However, a watershed moment occurred for these women when Sanjoy Ghose and URMUL functionaries saw the hardships of these women and helped them form an independent income-generation project out of their embroidery work.
They provided support and linked them with both national and international markets, which freed them from the exploitive hold of the middlemen.
Women from all over the Bikaner district followed in their footsteps and began forming self-help groups in embroidery. These women now earn thousands a month and can easily feed their families.
This profit and new ease of living has allowed these people to stay in their villages rather than continue migrating to cities.
Some of these women have even become group leaders in their cities, and their work has even garnered global attention, which further pushes them to increase the quantity while still maintaining quality.
Image Reference: TheBetterIndia
Recent Posts

Prediabetes does not have clear symptoms.

Unclaimed deposits with both public and private banks

Meenakshi Walke was a homemaker. But now, she
What's new at WeRIndia.com