64-year-old woman sells handmade soaps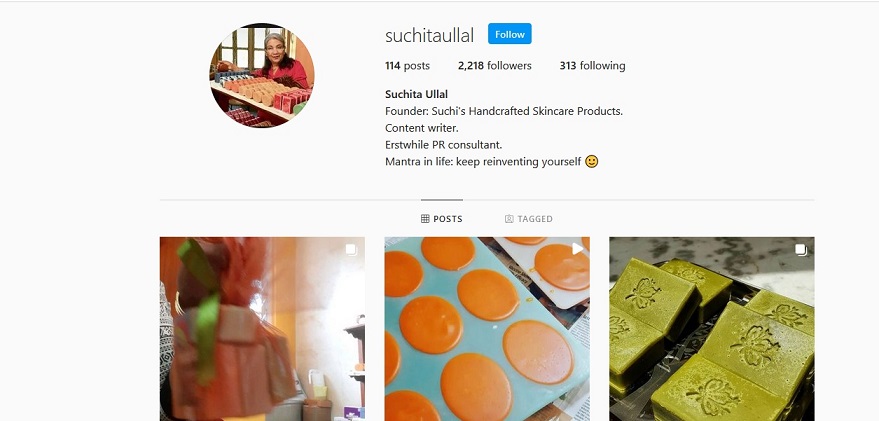 Nowadays, many senior citizens engage in different works, and some of them start second innings after their retirement. A few of them begin their entrepreneurial journey also.
Suchita Ullal wanted to keep her busy after her retirement and planned for that. She attended a workshop where she learned soapmaking. However, she had not the intention of starting a business while learning soapmaking in the workshop. But, the things forced her to start her business.
Suchita's initial investment was ₹15,000, including the course fee she paid for the workshop.
She started making soaps of different varieties by researching on the internet. She made 100 different types of soaps in a year. During pre-COVID time, Suchita managed to sell all those 100 soaps at a flea market. Thus she started her entrepreneurial journey.
Suchita and her husband Pradeep sell 500 soap bars each month. In addition to that, the couple sells creams, shampoos, body lotions, lip balms, and many more products with natural formulations. Their brand, Suchi's Handmade Skincare products, has been gaining popularity by word-of-mouth. They also market their products through different social media channels.
The couple mainly focuses on the quality of their products. They are very specific about the ingredients in their products. They use the topmost brands of vegetable oils and essential oils, butter and ghee to make their products. In addition to that, they use herbs, flowers, fruits and vegetable purees. They use natural and organic materials to handcraft their products with extreme care.
Moreover, they source locally produced ingredients. Their products received positive feedback as they are made naturally. Some of their best sellers include charcoal soap, sandalwood soap, turmeric soap, and tender coconut soap. The cost of soaps varies with the ingredients in them. A 100 gm of soap costs ₹120.
Image Credit: Suchitaullal's Instagram Page Screenshot
Image Reference: https://www.instagram.com/suchitaullal/
What's new at WeRIndia.com