13-year-old mental Math champ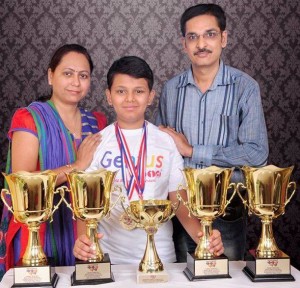 He is the new world mental arithmetic champion. Granth Thakkar, just a 13-year-old from Vapi, won the 6th world championship in mental arithmetic on October 12 in the German city of Dresden, surprising judges with his skill of solving mathematical problems speedily and effortlessly.
The second prize was won by Marc Jornet Sanz from Spain, while Chie Ishikawa from Japan was third in the list. There were about 40 young math enthusiasts from 18 countries in the competition. Calculators, papers and pencils were not allowed.
The contest takes place after every two years.
Granth Thakkar is not keen to pursue a career in mathematics, but aspires to be an astronaut, instead. "I think it would be great to fly into space," he said.
He also competed in math Olympiad in Turkey's Antalya city, in which he got the gold medal in the global number game, 'Flash Anzan'. His challenge was to add 15 numbers, flashing so quickly on a giant screen that they were not properly visible. Granth won the gold in the children's category and silver in the adult's.
What's new at WeRIndia.com