Wishberry – A Creative Crowdfunding Platform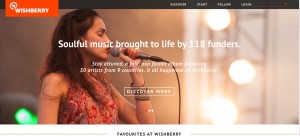 Wishberry.in is a creative crowdfunding platform in Mumbai. It was founded in 2012 by Priyanka Agarwal and Anushka Dubey. Anyone can share on Wishberry their ideas on arts, music, theatre, film, apps, publishing, technology, design and gaming and make them live by raising funds.
There are certain project guidelines for the users. They should submit their projects according to them and get approval. Then they can prepare campaign pages for their projects with the help of Wishberry coaches and share it with their friends, relatives and other acquaintances on social media to raise fund for their ideas. If the target amount is reached, then Wishberry transfers the funds so that the users can bring their ideas into light. Wishberry charges Rs. 2,500 upfront fee on the approval of campaign request and 10% as transaction fees on the funds raised inclusive of payment gateway charges. 12.36% of service tax is applicable on their fees. They accept international credit cards as well, so international contributors can help the campaigns too.
What's new at WeRIndia.com