The herbal healer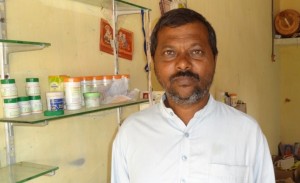 A plant is pliant. It is weak, yet it is a treasure trove of healing properties.
Ramaji Bhemaji Parmar, whose passion is plants, has realised that they have herbal properties that will heal the world. He has grown 3,000 plants in one acre, uses them to concoct medicines and treat patients and also preserve the bio-diversity of the environment.
One of his herbal innovations that he shared with SRISTI involved the use of one plant to treat the skin. Sadbhav SRISTI Sanshodhan laboratory conducted its research and found that adding some ingredients improved its efficacy. Hence, it used a suitable base to prepare an ointment for topical use. The tests conducted at the Indian Institute of Toxicology (IITR), found it to be non-toxic and suitable for application. Users have given good feedback, thus launching the product 'Zematic', commercially launched by SRISTI.
Ramji is busy helping all his patients everyday, and is visited by about 40-50 villagers. He freely shares his knowledge of herbal medicines and also makes them aware about the need to conserve bio-diversity for human welfare. He even encourages school children to visit his garden so that he can teach them about the plants.
When he was small and curious, Ramaji Parmar followed his father to the forests and understood a lot about endangered herbs in a botanical garden. Ramaji Bhemaji Parmar's father was a much sought-after herbal doctor for illnesses such as cyst, kidney stones, bloat, fever and malaria. People from neighbouring villages would drop in for consultations and medications. So he brought back many of these threatened herbs into medical science.
After he lost his 108-year-old father, the mantle of healer fell on Ramji's shoulders. Though he was not educated, his knowledge bank of herbs for human and veterinary health looked into 500 traditional herbal medicines and practices. As humans are destroying the forests, he decided to create a garden with the plants.
After growing up, he understood that he needed to support healing in society, so he identified the herbs in the forests, grew them and tried to help people. This innovator has explored a lot of remarkable experiments in this field, and is still helping people.
For Technology Licensing, Technology Transfers or Collaborations, please write to – bd@nifindia.org
What's new at WeRIndia.com