&Me offers bioactive beverages to women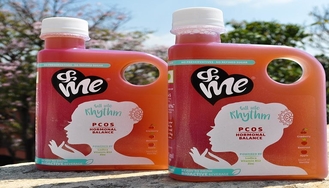 &Me is a lifestyle brand that offers bioactive beverages to women.
The company integrates both he Ayurveda and modern science to fit the needs of the lifestyle of modern women.
More than half of Indian women in menstruating age are suffering from anaemia. Nearly 70 per cent of women are under the risk of osteoporosis due to lack of calcium and vitamin D.
In order to meet the needs of the modern-age women, &Me is creating beverages to women.
These drinks are made with vegetables, fruits, flowers, herbs and spices.
The company assures that these drinks have no added sugar or preservatives. Thus, they have very fewer calories. Most of them are less than 80 calories.
Furthermore, these drinks provide at least 30 per cent of the daily requirement of vitamins and minerals.
&Me was founded by Ankur Goyal in 2017. He is an IIT alumnus. His team includes employees with early stage experience across Apps Daily, Chai Point, Hector Beverages, Nestle, and OYO Room.
&Me is a Bengaluru based company. The company provides Ready-to-Drink (RTD) beverages to consume them right off the bottle.
There is no need to add anything to the drink. Some drinks should have to be consumed on a regular basis. These include Lodhra and Shatavari. They help balance the ovarian hormones. They also regulate the menstrual cycle.
The results vary with each person. However, for best results, regular consumption is essential as per the company.
&Me made their state of the art factory in Pune. You can order the drinks on their website to be shipped all over the country. Free shipping can be done on orders above ₹350.
People in Bengaluru can buy them in various retail stores across the city. Both online and offline purchases have no difference in them. Yet, online buyers will have offers and deals.
First-time users that buy through their website can get 10 per cent off. They have various monthly subscription packages for ₹2,560. It includes a pack of 32 bottles.
Image Reference: Andme
What's new at WeRIndia.com