Kheyti, a good solution to farmers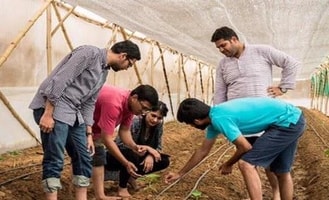 The water crisis is increasing in India. As per the report of NITI Aayog, around 600 million Indian face huge water crisis and nearly two lakh people are dying each year due to water shortage and lack of access to safe water.
The water crisis will become worse as the report says the country's demand will be twice by 2030.
As a result, the country will lose up to 6 per cent of GDP for water alone.
Groundwater availability is getting depleted over the years. This mainly impacts the lives of the farmers in the country.
Recently, Prime Minister Narendra Modi emphasized the importance of drip irrigation and usage of sprinklers for effective use of water.
Several enterprises are also focusing on this issue and solutions.
There are revolutionary startups to address the water crisis in farming. Kheyti is one among them.
This Hyderabad-based startup was founded by Sathya Raghu V Mokkapati, Kaushik Kappagantulu, Saumya and Ayush Sharma.
Sathya Raghu V Mokkapati is a CA. He wants his product to reach all farmers across the country.
Kheyti helps farmers using drip irrigation. There are four layers on the farm to prevent water loss through evaporation.
With the help of this method, farmers can grow vegetables with just 1,000 litres of water per day.
Kheyti offers Greenhouse-in-box (GIB) which ranges from ₹1 lakh to ₹3 lakh. It can be used even in a farm of 2,000 sq.ft, i.e. 1/16th of the acre. Their unit includes a drip irrigation kit, seeds and fertilizers in addition to the installation of a greenhouse.
Kheyti claims to offer a climate-smart agricultural solution to help small farmers improve their income.
The cost of their kit is lower than that of others available in the market.
They also offer financing, training, and market linkage to the farmers.
Image Reference: Yourstory
What's new at WeRIndia.com