Hoovu Fresh offers fresh flowers for Puja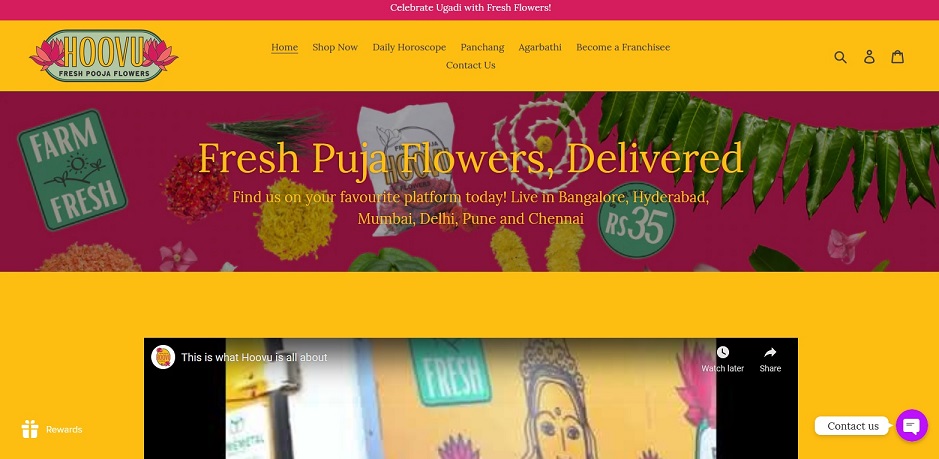 Devotees generally buy flowers at the temple to offer to deities. Only limited online portals are there to sell Puja flowers. This sisters' duo decided to start flower selling to fill the gap and capture the market share.
Yeshoda Karuturi and Rhea Karuturi are sisters. Their father, Ramakrishna Karuturi, started a rose farm in Ethiopia after the birth of Yeshoda.
His business has grown for more than two decades. He expanded his business to Kenya and India. His rose farm became one of the largest rose farms in the world within a decade.
The success of their father boosted them to start their entrepreneurial journey. They started Rose Bazaar in 2019 to sell flowers online. They renamed it Hoovu Fresh in 2020.
The sisters' duo wanted their brand to be unique. Hence, they named it Hoovu Fresh. Hoovu means flowers in Kannada.
Hoovu Fresh is a Bengaluru startup. They worked in their family business before launching their startup.
They identified the business potential in the Puja flower industry in their research. It has four times more business than the bouquet flower industry.
As flowers are perishable, they use methods to increase the shelf life from three days to 15 days. Hoovu Fresh offers loose flowers and garlands. At present, it has around 50 flower SKUs. Price ranges from ₹25 to ₹1,000.
Yeshoda and Rhea procure high-quality flowers directly from farmers. In addition to selling flowers on their website, they also sell them through other marketplaces like Big Basket, Fresh to Home, Jio Mart, Zepto, Dunzo, Zomato, Swiggy, and many more.
As the startup started its operations just before the first lockdown due to the pandemic, it faced a few difficulties in the beginning. But, later, its sales were grown as several people switched to online platforms due to COVID-19. Their sales have been growing for the past year. They fulfil over 1.5 lakh orders per month at present.
Hoovu Fresh's services are available in Bengaluru, Mysore, Hyderabad, Chennai, Mumbai, Pune, Gurgaon and Noida. The startup also sells agarbattis made with flowers.
Image Credit: Hoovufresh Website Screenshot
Image Reference: https://hoovufresh.com/
What's new at WeRIndia.com