FreshToHome delivers meat to your home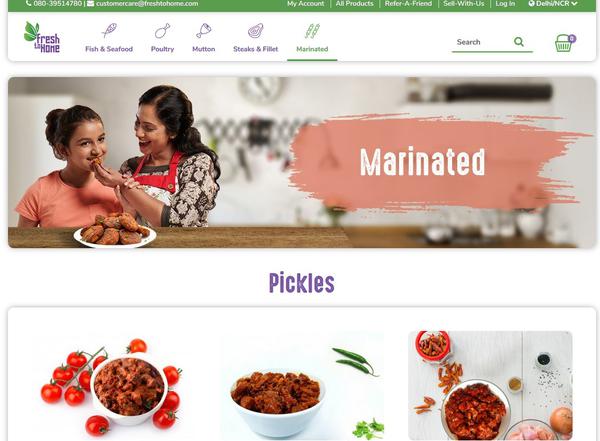 FreshToHome is an online meat provider. If you order chicken, mutton, or fish online, they will send your ordered item directly to your home.
FreshToHome is a Bengaluru based company. It assures completely fresh meat or fish deliverance to you. Antibiotic free chicken and chemical free products are guaranteed by the company.
FreshToHome is committed to providing unadulterated food to consumers. Hence, they ensure you that you get fresh meat.
Moreover, the fish or chicken is directly purchased from the fishermen or farmers without any middlemen.
They claim to follow the most advanced scientific transportation and packaging process until the product reaches your doorsteps.
They maintain the required temperature and preserve the meat in healthy conditions by using ice.
As most of the meat products are polluted and the non-vegetarians are worried about them, FreshToHome considers your worries.
Most of the chicken that is being sold in the market has growth promoters which is why it weighs many kilos.
But, they assure their premium chicken does not consist of any growth hormones or antibiotics, hence you can eat tender and tasty chicken.
FreshToHome is currently supplying in the regions of Bangalore, Chennai, Cochin, Delhi/NCR and Trivandrum.
They are to planning to extend their services to other metro cities as well.
Based on the location, they charge certain amount as delivery charge. It is ₹29 per order. However, if your order is more than ₹799 in a non-Kerala region and ₹499 in a Kerala region, they will discount this charge.
The minimum charge on first time order is ₹198 for all metro cities. It may vary from time to time.
Delivery will be done on the same day. However, you can check it at the time of your checkout.
You can pay for your order by way of net banking, debit and credit card.
Image Reference: Freshtohome
What's new at WeRIndia.com