BetterButter – Recipe sharing platform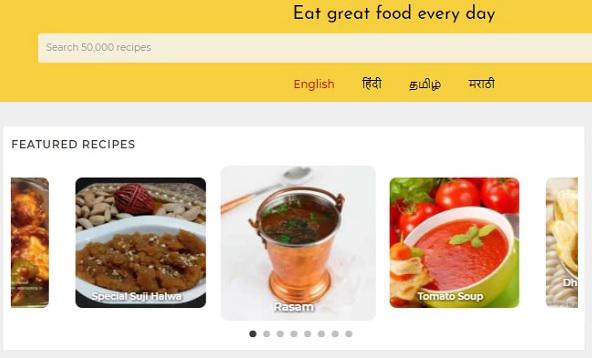 BetterButter is a Delhi-based recipe sharing platform. It was founded by Niyaz Laiq and Sukhmani Bedi. It is aimed to provide home-style recipes to aspiring as well as amateur cooks.
BetterButter has more than 50,000 recipes and 3,000 videos. The videos describe the step-by-step procedure of the recipe.
BetterButter's app has been downloaded over 7,50,000 times.
Users can also post food-related queries on this platform and exchange tips on cooking. Furthermore, they can also start cooking discussions, and fellow members can reply their questions in real-time.
The interesting thing is that users can save the content offline so that they can refer to at their convenient time.
The content is available in English, Hindi, Tamil, Marathi, Bengali, Guajarati and Telugu.
Homemakers can create studio-quality cooking videos hassle-free at their homes with the BetterButter app. For this, they have to shoot short video clips normally which can be stitched together by the BetterButter team to create a high-quality video.
Users can share their recipes and participate in the contest as well. For this, their recipe should be original. They can also take inspiration from some other's work.
The recipes should be sent along with original photographs. The recipe is disqualified for the contest if it is found to be plagiarized.
Any individual from all over the world can participate in the contest, but, one should have a valid Indian address for the prize to be shipped.
One can send as many entries as he or she wishes. Yet, photos are must for each recipe.
1st, 2nd and 3rd prizes are distributed to the chosen individuals. Yet, consolation prizes are many and distributed to several people.
Prizes for the contest are follows:
1st Prize, Sumeet Nonstick Set
2nd Prize, Milton Casserole Set
3rd Prize, HomeTown Triangle Plate Set
Maximum Entries, Cello Bowl Set
Image Reference: Yourstory
What's new at WeRIndia.com