Swasthya Slate facilitates 33 Medical Tests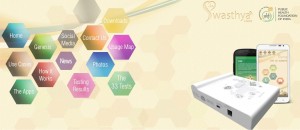 Swasthya Slate is a powerful device designed by Public Health Foundation. It facilitates the users of Android Tablets and Phones to conduct 33 diagnostic tests on their mobile devices using specially designed apps for them. They reveals the results immediately. Right now, it is being tested as a pilot project after getting approval from ICMR in six districts of Jammu and Kashmir State with the help of Norway government. AIIMS is testing the accuracy of results of these tests.
Swasthya Slate is a medical devices that works with the help of Bluetooth. This works on Android based phones and tablets with the help of apps. This device immediately reveals the blood sugar levels when the blood sample is inserted in the device attached to phone. The founder of Public Health Foundation Dr. K. Srinadh Reddy informed that these devices are approved by government and they will increase the number of tests to 40 from 33 in the near future. At present, the price of the device is Rs. 25,000 and it will be decreased if they get financial aid from government. The device units are also attached with solar backup to work for some hours in case of power failure.
What's new at WeRIndia.com