Scientists develop a paper strip COVID-19 test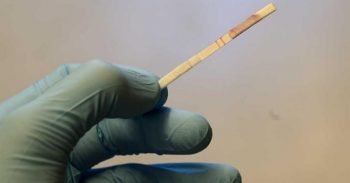 As the total number of cases is increasing in the country, COVID-19 testing kits are vital to detect infected people in hotspots.
Several scientists are working on developing testing kits to test more number of people in the country.
A team of two Bengali-origin scientists developed an innovative solution and named it Feluda, a famous fictional detective.
Dr Souvik Maiti and Dr Debojyoti Chakraborty at the Council of Scientific & Industrial Research's Institute of Genomics and Integrative Biology (CSIR-IGIB) in New Delhi, have designed a  paper strip test.
The test can give results within an hour. Feluda is a paper-based test strip to detect COVID-19 instantly to help test more people. Thus, they want to address the problem of rapid-testing for more people.
India is in need of COVID-19 testing kits that can give faster results. The test uses cutting-edge gene-editing tool Crispr-Cas9 to identify genomic sequences of coronavirus in the samples of COVID-19 suspected people.
The team has been working on this tool for other diseases for nearly two years. But, after the outbreak of coronavirus in the month of January in China, they started working to check whether it can work for the novel coronavirus.
After two months, they came with the results and succeeded in developing a paper-strip test.
The rapid-test can provide faster results and at the same it is cost-effective. At present, real-time polymerase chain reaction test (RT-PCR) is being used in the country. It needs huge machinery worth lakhs of rupees. Moreover, it is expensive and is priced at ₹4,500. But, the Feluda test costs just ₹500.
The paper-test strip does not require any special skill and machines to perform. It works similar to a pregnancy test strip. CSIR Director-General Shekhar C. Mande says that the test is completely accurate.
Image Reference: Indiatimes
Recent Posts

The government rolled out the ONDC initiative in

The function of the salivary gland is impaired

Shubham Saini runs a tea stall named Frustrated
What's new at WeRIndia.com