Roads from plastic waste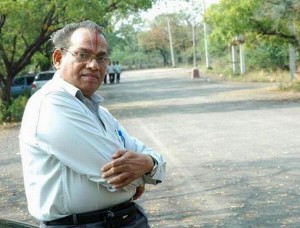 An order from the Government of India made it mandatory for road developers to use waste plastic and bituminous mixes in the road construction projects. The move was made in November 2015 as the problem of disposing plastic waste has become quite troublesome.
The technology necessary to use plastic waste in road construction was developed by Professor Rajagopalan Vasudevan, Professor of Chemistry at Thiagarajar College of Engineering, Madurai. He is known as the 'Plastic Man of India'.
The usage of plastic in today's world is very heavy. There are many plastic based things people use every day. Because of it easy to produce nature and durability, plastic is commonly used by many people.
However, the biggest problem with plastic is that it does not decompose. Plastic waste keeps piling up every day.
Even the recycling of plastic is limited to 3-4 times and the process releases highly toxic fumes.
Vasudevan saw the big problem in this. He started looking for solutions. He mixed plastic waste with bitumen and coated the mixture over stone which resulted in positive results. In 2002, he implemented the usage of plastic waste on a road constructed in his college.
The process of the using the waste to make roads is quite simple. First the waste plastic material is shredded to a particular size using a shredding machine. Then the aggregate mix is heated at 165°c and transferred to the mixing chamber. The bitumen heated to 160°c gives good binding. Monitoring the temperature during heating is very important.
The shredded plastic waste is added to the aggregate. In 30 to 60 seconds, it gets coated uniformly over the aggregate. This gives the mix an oily look. After that, the plastic waste coated aggregate is mixed with hot bitumen. This mixture can be used for road construction. The temperature for laying the road is between 110°c to 120°c.
Image Reference: Planetcustodian.com
Recent Posts

Union Finance Minister Nirmala Sitharaman said that VDAs

Cinnamon is a widely used spice in the

A man from Karnataka celebrated the birthday of
What's new at WeRIndia.com