Plastic to Petrol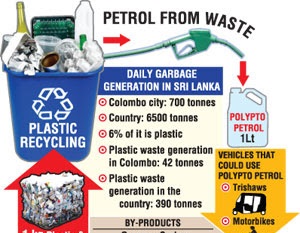 India is set to become one of the few countries which can turn plastic waste into petrol. The researchers at Indian Institute of Petroleum (IIP) has developed new technology which can convert plastic into high quality petrol and diesel.
Petrol prices have been rising high every day and it is one of the biggest problems for everyone in country. This amazing new invention can be a solution for that problem. The new fuel is expected to cost Rs.30 to Rs.40 per liter. Not only will the petrol price issue be solved, but also the huge amounts of plastic waste in the country will be used for something productive.
This method turns plastic into gasoline, diesel or aromatics. It also produces LPG as a byproduct. The director of IIP stated that the diesel produced through this method will be of high quality because of the absence of sulphur. This fuel meets the standards of Euro-III and will give at least two kilometers more mileage per liter when compared to regular fuel.
With the development of this fuel, India is launched into the same standards as Germany, Japan, and the US – the only countries which have access to green fuel.
Image Courtesy: Bestworldstuff
What's new at WeRIndia.com