Pee-Buddy helps women in dirty toilets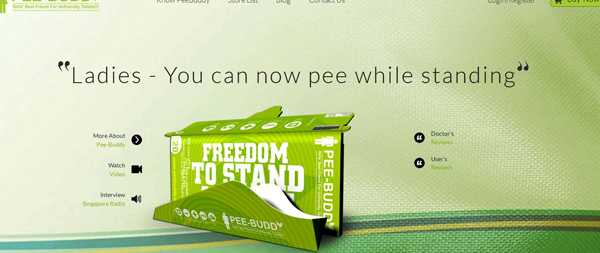 Now women can say no to dirty toilets using Pee-Buddy. Generally, you don't know how safe it is using a public toilet especially in case of a western toilet. There are many germs and harmful bacteria spread on the toilet seats. They may cause several health problems including urinary tract infections to several diseases. Men can escape or minimize their risk while urinating but women cannot. To avoid this situation, Pee-Buddy came into existence.
Pee-Buddy is an innovative product designed for women to be used in public toilets while travelling or in restaurants, hospitals, shopping malls and work places. The main aim of this product is to focus on hygiene. It is a simple use and throw product. It allows women to stand and pee.
Pee-Buddy is made from coated paper that is waterproof. It is for single use only. Users need to throw it after use. Using Pee-Buddy is simple. Usage directions are given on pack.
To open the Pee-Buddy, slightly press the top front and back. Moving your panties aside, keep the Pee-Buddy between your legs exactly under the flow area i.e. the open end of the funnel should be placed under the flow area. Slightly bend or tilt hips to make sure the funnel is tilted downwards. Now you are ready to pee. Then throw the piece into dustbin.
There are several stores that sell this product across the country. You can also get this on various online stores like Amazon, Firstcry, Groupon, Ebay Royalbikers, Clickoncare, 10kya, Safetycart etc. and retail outlets like Religare Wellness, Guardian Pharmacy, 98.4, New U, Le Marche, WHSmith and Outdoor Travel Gear.
Pee-Buddy comes in various sizes of packs. The minimum size is pack of five which is available for Rs.120. Pack of 10 is available for Rs.200 and pack of 20 is priced at Rs.375.
Image Reference: PeeBuddy
What's new at WeRIndia.com