One Assist Facilitates Card Fraud Protection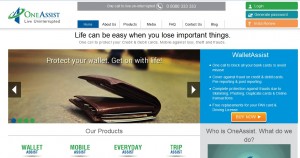 If you lose your card, mobile or wallet especially in a journey, it causes a great worry. In such times, we think if anyone could help us. OneAssist is a great solution and puts stop to your worry. It was founded in 2011. Whether it is card or mobile or wallet or anything we lost, they are ready to help us. They even help us by providing trip assistance.
To get assistance from them, we have to pay for their services. OneAssist website is certified by Norton. Transactions can be done on their Website securely. There are various packages and with varying prices. Their MobileAssist protects your mobile phone and all the data against theft and damage. In case of mobile theft, you can make them a call and block the SIM. Damaged handsets will be picked from customers' home directly and will be sent back after repair. A temporary handset will be given in this time. It also covers the handset insurance that protects you against theft and damage. With WalletAssist, you can block the lost bank cards, replace PAN card and driving license. It also protects against online frauds and phishing.
Their TripAssist protects you in trips when you lose cards, wallet or mobile. They settle all hotel bills and book return tickets. They provide foreign language interpreter and lost passport assistance.
What's new at WeRIndia.com