OakMist –  A Hands-free mist sanitizer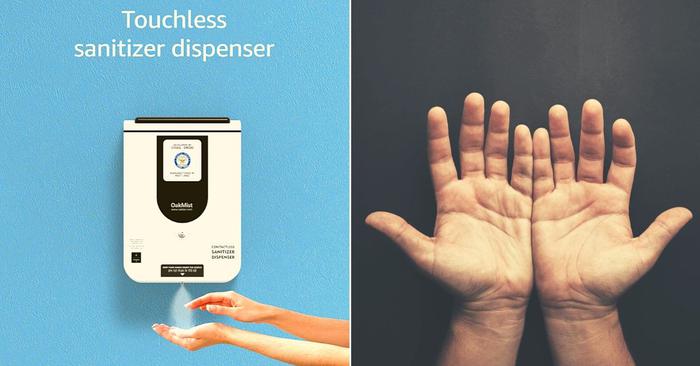 Hand sanitizer is one of the most essential things now. It is useful when you are outside or when there is no hand wash.
Hence, many shops and malls are keeping a hand sanitizer for their customers. However, if anybody touches the nozzle of the hand sanitizer, then it may lead to cross-contamination.
To prevent the risk, some companies are trying to make sanitizers that can be used with the help of legs. And some others are exploring other ways.
A Noida-based firm, Riot Labz designed hands-free 'mist' sanitizer. This firm is working with the Centre for Fire Explosive & Environment Safety (CFEES). CFEES works under the Defence Research and Development Organisation (DRDO)
The product is named as OakMist. It is a contact-less dispenser spraying alcohol-based hand sanitizer solution.
Thus, it avoids the risk of cross-contamination and wastage of water.
OakMist is being used at all government offices and the residences of distinguished personnel, including the Rashtrapati Bhawan, the PMO, Ministry of Home Affairs, Supreme Court etc.
The company designed its prototype after they received the requirement from CFEES. The founders of the company decided to use the material available in their homes for the prototype.
However, they had to go to their factory to develop a proper prototype. They got the approval from the DRDO and opened their factory partially to design the prototype. Their team designed it in three days and got a nod from the officials.
OakMist works on water mist aerator technology. It has an ultrasonic sensor which is activated to operate the unit without any contact.
A single fluid nozzle with a low flow rate minimizes the waste. If you keep your palms open under the unit, it starts spraying sanitizer.
The atomiser dispenses only 5-6 ml sanitizer for 5 seconds in use. As it gives the full cone spray, this amount is enough to disinfect both hands completely.
OakMist is priced at ₹12,990. Many private hospitals and companies are giving orders for the product.
Image Reference: Thebetterindia
What's new at WeRIndia.com