Mini Hand Sanitizing Robot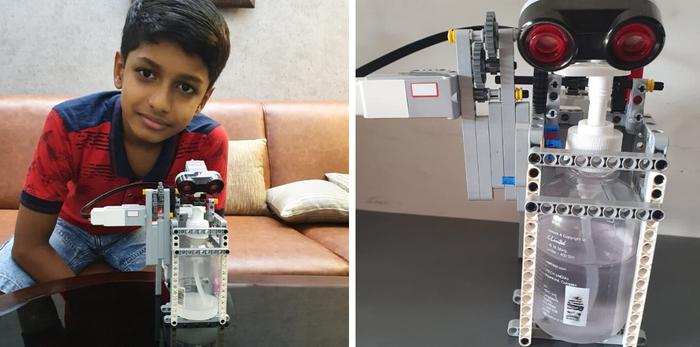 Due to the lockdown, schools remain closed. With an early closing of schools and educational institutions, children have plenty of time. While many children are spending time playing games, a few are utilizing their time productively.
Here is a 10-year-old kid from Kerala who built a mini hand sanitizing robot. Now washing hands become one of the most vital things across the world. In this context, he designed it.
Alok Dev is a class 4 student of the Govindapuram Kendriya Vidyalaya. He is passionate about robotics. The passion developed in him at the age of 7.
Hence, he approached a robotics training centre near his house to learn about creating a robot.
Understanding the basics of robotics, Alok created many robots to carry out various functions.
Now he designed a mini hand sanitizing robot. This robot can dispense the hand sanitizer automatically.
This hand sanitizer has gained popularity due to the outbreak of COVID-19.
Alok says that this robot is very effective in the wake of COVID-19 as clean hands are important. It dispenses sanitizer automatically, hence, there is no need to touch the bottle.
This robot is made using Lego Ev3 Mind Storm kit, an ultra-sensor and an arm processor.
He says that the building of the robot didn't take much time as he knew about the concept.
Aloks' mother says that her son spends most of his holidays creating useful things.
For the past few weeks, he has been watching the news about the coronavirus. Hence, he wanted to make this hand sanitizer robot. Alok has a YouTube channel 'AkkuTech' where he posts videos of his new inventions.
Alok created a robot in the past as well. This robot can hold and carry things from one place to another.
Image Reference: Thebetterindia
What's new at WeRIndia.com