Milking Machine – An Ingenious and Fast Solution to Milk Cows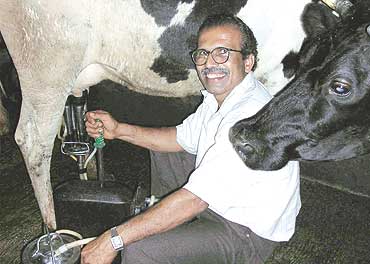 It is one of the biggest problems for farmers to find skilled labor for milking a small herd of cows. Only large farms and diaries had the luxury of buying and using
milking machines.
However, Raghav Gowda from Karnataka has developed a milking machine which is affordable for all farmers. His aim was to make it easy for farmers to milk at an affordable price.
After working on a machine, Raghav has managed to develop a milking machine which can milk 1.5 – 2 liters of milk per minute. The machine removes all the milk from the udder. Another advantage of this machine is that the cow does not feel any pain. It merely feels as if it is being suckled on.
This machine is helpful to farmers because it is a tough job to milk a lot of cows. Furthermore, milking with hands is not considered healthy or hygienic anymore. Raghav Gowda has observed the mechanism of the Gutter spray pump which is used for the spraying of pesticides. With that, he came up with the idea of using PVC teat cups and a plastic pipe on the gutter pump. He developed his first machine based on this principle and used the machine to experiment on his own farm. Now the machine has become very useful to many farmers who need easy milking at affordable price.
What's new at WeRIndia.com