IFS Officer makes copper-lined bamboo bottles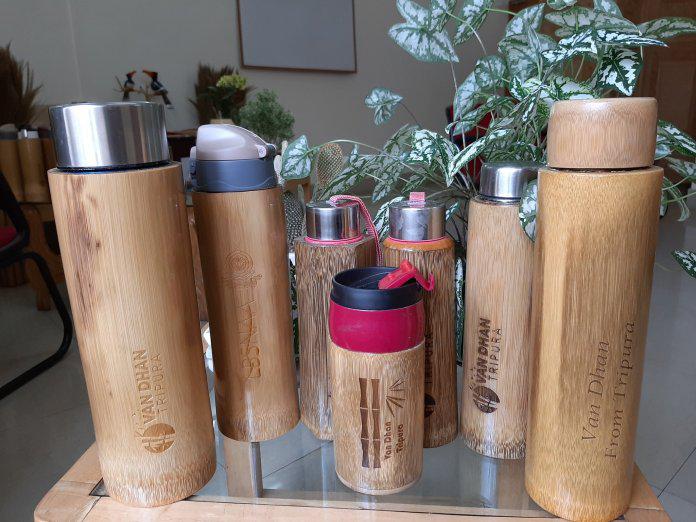 To avoid the use of plastic bottles, different types of metal, steel, and clay bottles are available in the market.
Some innovators and designers are exploring ways to make different types of new varieties.
This IFS officer made copper-lined bamboo bottles. Prasada Rao from Tripura used bamboo to make bottles.
Bamboo is extensively grown Tripura; 28 per cent of India's annual bamboo yield comes from this state.
Due to abundant resources, Prasada Rao wants to use it to make different products. He trained 1,000 artisans to make bamboo handles for brooms.
Thus, use of bamboo to make different products avoids the use of plastic and improves the standard of living of tribal people and local artisans in Tripura.
Before making leak-proof bamboo bottles, Rao conducted extensive research. He aims to make a product with international standards.
He preferred to use the copper lining to prevent the development of fungus inside bamboo bottles. Besides, water in copper vessels has many health benefits.
That's why copper lining is used. The recent research shows that the novel coronavirus can live up to 2-3 days on plastic whereas it can only last for up to 4 hours on copper.
It is another reason for people to use copper bottles.
These leak-proof bamboo bottles are available in different sizes like 300ml, 500 ml, 750 ml, and 1ltr. The cost varies from ₹700 to ₹1,200 depending on the size, excluding tax and shipping charges.
Rao also said that they are manufacturing flasks of 750ml for ₹1,300.
The artisans used to make bamboo bottles earlier. But, several people are not willing to buy them due to lack of durability.
But, now these bottles are improved with international standards. Hence, many people are buying them. The artisans are earning around ₹350 per bottle they make; thus, their income and standard of living improved.
Image Credit: Opindia Website Screenshot
Image Reference: https://www.opindia.com/2020/06/hundreds-of-local-artisans-trained-to-make-handcrafted-leak-proof-bamboo-bottlers-under-pradhan-mantri-van-dhan-vikas-yojana-in-tripura/
What's new at WeRIndia.com