Coolest Innovations in 2018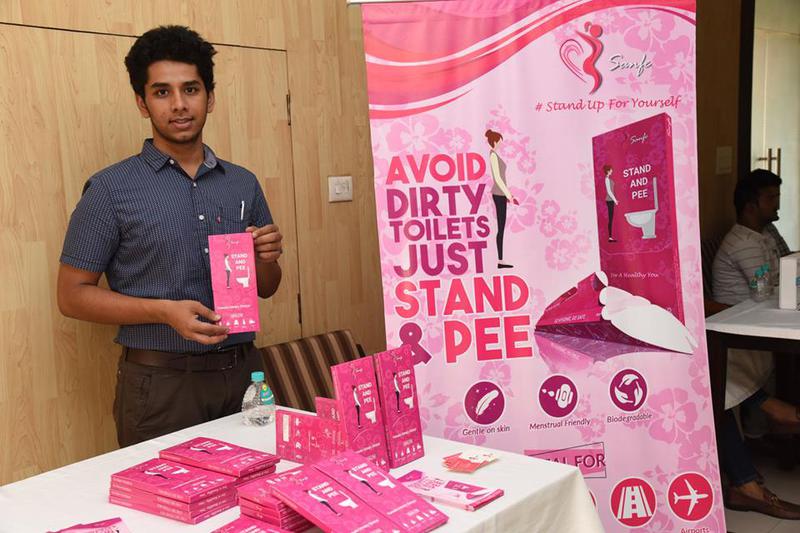 Indians can be geniuses. You would agree with the statement if you knew about some of the 'coolest' innovations designed by the Indians.
Sanfe: It is a known fact that usage of unclean public toilets can cause urinary tract infections especially in women. To avoid this problem, Harry Sehrawat and Archit Agarwal, IIT Delhi students, designed a device which eliminates body contact with toilet seats for women.
These third-year students of textile engineering visited several public toilets to know about the sanitary conditions. They found that most of them are unhygienic and unfit for use.
These unhygienic toilets are a major cause for urinary infections. Hence, they developed Sanfe, a low-cost device priced at ₹10.
Sanfe was made from biodegradable paper and is menstruation-friendly. It allows women to stand and pee to avoid complete contact with the unhygienic toilet seats. This compact device can be carried in a purse.
Pressure-sensitive mat: In order to address the issue of human stampedes, Nilay Kulkarni created a prototype of a pressure-sensitive mat along with a team.
The team collected data including the number of people and location using advanced analytics to predict stampedes before their occurrence.
As the data has been gathered from various sources, the heat map created could predict the patterns of moving crowd that leads to stampedes.
They put the data together, and used aluminium foil along with cardboard to create a mat that could count footfalls.
EverGreen machine: Teenagers from Mumbai launched a prototype machine that uses banana leaves for packaging.
Their EverGreen machine helps farmers earn more income with banana leaves which are being wasted at present.
OBDAS: Archit Agarwal developed an award-winning technology called 'On-Board Diagnostic Data Analysis System' (OBDAS).
This plug-in technology uses data interpretation and diagnostics of a vehicle through an onboard diagnostic system. It also enables automobile and auto insurance companies to track real-time data from the car.
The most important function of the OBDAS system is, it will send the location of the car to emergency services in times of accidents and thus can prevent deaths.
Image Reference: Thebetterindia
What's new at WeRIndia.com