Afforestt, an Eco-friendly Solution to Create Forests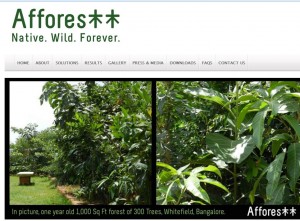 Afforestt is an eco-friendly solution to create and preserve the forests.  It was started in 2011 by Shubhendu Sharma in Bangalore to bring back native forests by creating them. The website provides Corporate and Turnkey services. They assure to turn a barren piece of land into a luxurious green forest within a period of 3 years. Their services are available at present only in Bangalore, Delhi, Chennai, Mumbai in India, and Muscat in Oman.
Afforestt uses a Miyawaki Technique to create forests. This is a unique procedure and is proven to work efficiently globally irrespective of soil and climate conditions. Using this technique, 30 times more trees are planted when compared to conventional plantation techniques. A minimum of 50-100 different species are planted in the same area which lowered noise and dust pollution. More carbon dioxide absorption is observed than the convention techniques. Entirely maintenance and chemical fertilizer free forests and at least 1 meter growth per tree is observed each year.
What's new at WeRIndia.com