Unusual post offices in India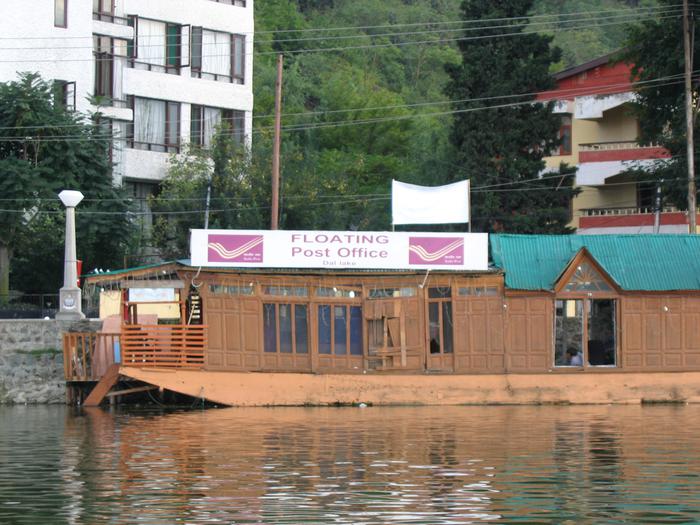 India Post has the largest postal network in the world. There are more than 1.5 lakh post offices in the country out of which nearly 1.4 lakh post offices are situated in rural areas.
There are some unusual post offices in the country:
India has a floating post office in Srinagar. It is the only floating post office not just in India, but also in the world. Thus, this floating office is unique in the country which attracts tourists.
The floating post office is built on a houseboat on the Dal Lake in Srinagar in 2011. This post office offers banking services and sells postage stamps, greeting cards, picture postcards, souvenir items, stationery items, and books. A philately museum is also there. This post office uses a unique seal depicting a shikara and a boatman. John Samuel is the chief postmaster of this floating post office.
India has the highest post office in the world. This post office is located at an altitude of 15,500 ft in Hikkim, Himachal Pradesh. The post office was opened in 1983. Since then, Rinchen Chhering has been serving as the postmaster.
Hikkim post office is closed for six months in a year due to snow. It serves local farmers to maintain their saving accounts, monks from the surrounding monasteries to receive their passports, and tourists to send postcards. Besides, the mail is delivered to the destinations collecting by two people regularly.
India has a post office outside India. It is Dakshin Gangotri post office in Antarctica. The post office first became operational in 1984 during the third Indian expedition to Antarctica. In the first year, nearly 10,000 letters were posted and later cancelled at this post office.
Scientist G. Sudhakar Rao was appointed the first honorary postmaster of this post office in 1987. Later, the post office was brought under the Department of Post at Goa in 1988. However, it got half-buried in ice in 1990. Hence, the post office was decommissioned in the same year.
Image Credit: Vinayaraj / CC BY-SA 3.0
Image Reference: https://commons.wikimedia.org/wiki/File:Srinagar_-_Dal_lake_and_around_151.JPG
What's new at WeRIndia.com