Tallest statues in India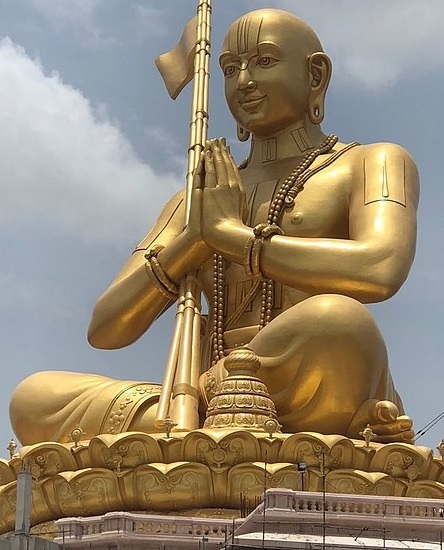 India has many beautiful sculptures and architectural structures. There are many tallest statues in the country.
Here are some tallest statues found in India:
The Statue of Unity in Gujarat is the tallest in the world. This 182-meter-tall statue is of Sardar Vallabhbhai Patel's. The Statue of Unity is located on the Narmada River in Gujarat. This statue was inaugurated by Prime Minister Narendra Modi in 2018, on the 143rd birth anniversary of Sardar Patel.
The Statue of Equality is located in Muchintal, Hyderabad. It is the statue of Ramanuja and is dedicated to commemorate the 1000th anniversary of Ramanuja's teachings. This 65.8-meter-tall statue will be inaugurated by PM Modi on 5th February 2022.
Lord Hanuman statue in Paritala, Andhra Pradesh, is the world's tallest Hanuman statue with a height of 41 meters. It is located 30km away from Vijayawada on NH-9. There is another Hanuman statue, Veera Abhaya Anjaneya Hanuman, in Vijayawada, Andhra Pradesh. This 41-meter-tall statue is the second tallest Hanuman statue in the world.
The Thiruvalluvar statue in Kanyakumari, Tamil Ndu is the statue of Saint Thiruvalluvar. This 40.5-meter-tall statue was unveiled by then Chief Minister M. Karunanidhi in 2000. It was built on a 38-foot-long pedestal, which represents the 38 chapters of Virtue of Saint Thiruvalluvar.
Tathagata Tsal is located in Ravangla, Sikkim. The main attraction of the place is a 39-meter-tall statue of Buddha. It was created to mark the 2550th birth anniversary of Gautama Buddha. There is also another Buddha statue, Dhyana Buddha, in Amaravathi, Guntur, Andhra Pradesh. It is 38.1 meters in height.
Lord Shiva statue of Murudeshwara Temple is located in Karnataka. This 37.4-meter-tall statue is the second tallest statue of Lord Shiva in the world. It is the tallest statue of Lord Shiva in India.
Sai Baba statue in Repuru, Kakinada, Andhra Pradesh, is the tallest statue of Sai Baba in the world. It is 35.5 meters in height.
Image Credit: Nampar10 / CC BY-SA 4.0, via Wikimedia Commons
Image Reference: https://commons.wikimedia.org/wiki/File:Statue_of_Equality.jpg
What's new at WeRIndia.com