Stambheshwar Mahadev Temple in Gujarat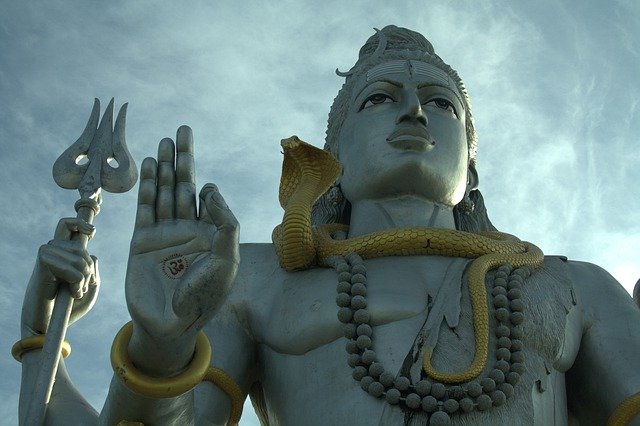 There are many architectural wonders in India. Especially the art and architecture on several temples is an amazing wonder till today.
Some temple remained a mystery and unique for their specialties.
Here is one such amazing temple.
It is Stambheshwar Mahadev temple in Gujarat. It is a vanishing spectacular.
The temple is dedicated to Lord Shiva. The temple is one of the incredible places to visit due to its submerging effect.
Hence, the Stambheshwar Mahadev temple popularly known as Disappearing Shiva Temple in the country.
It submerges each day and reappears again.
The temple is located in Kavi Kamboi between the shores of Bay of Cambay and the Arabian Sea.
Every day, during the high tide hours, the temple submerges, and when the tide level becomes normal, the temple reappears again.
Several pilgrims from all over the country visit this temple to watch the amazing nature of the temple.
As per the mythology, the Shiv Ling here was installed by Lord Kartikeya on the advice of Lord Vishnu to absolve his sin of killing the demon Tarakasura.
Tarakasura troubled the common people a lot as well as the gods. Hence, Lord Kartikeya killed him, but later he felt guilty for killing a demon who was a great devotee of Lord Shiva.
Hence, he installed the Shiv Ling in order to redeem his sin and pray the Lord to forgive his sin.
The submerged temple has a great significance and devotees believe that they will get liberation from reincarnation if they visit it.
The temple place is at around 75 km from Vadodara in Gujarat. Road way is one of the best ways to reach the temple. People from Vadodara, Bharuch and Bhavnagar reach the temple by vehicles and private cabs.
One can reach the place by train as well.
Image by Veerendra Tikhe from Pixabay (Free for Commercial Use)
Image Reference: https://pixabay.com/photos/mahashivaratri-shiv-shankar-4767143/
Recent Posts

From now, domestic airline passengers are allowed to

Here is a step-by-step guide to check your

Balakrishnan from Kasargod, Kerala, has been living on
What's new at WeRIndia.com