Mahaparinirvana temple in Kushinagar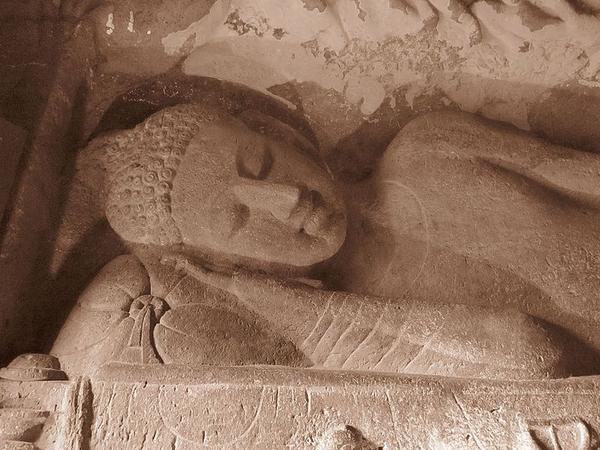 Prime Minister Narendra Modi offered prayers at Mahaparinirvana temple, Kushinagar in Uttar Pradesh, on the occasion of Buddha Purnima. In this context, it is apt to know about the temple.
Devotees believe that Lord Buddha attained nirvana at the Mahaparinivana temple.  It is said that this is the place where Lord Buddha delivered his last sermon.
It is a famous pilgrimage Buddhist site and one of the four holy places of Lord Buddha. It is a famous pilgrimage Buddhist site and one of the four holy places of Lord Buddha.
Rambhar Stupa is the place where Lord Buddha was cremated. The Mahaparinirvana temple has a statue of Lord Buddha in a reclining position. This 6.10-meter-long statue is made of monolith red sandstone. The reclining position of the Lord represents his death bed. The statue was dated back to the 5th century AD.
As per Ramayana, Kushinagar was named after the son of Lord Rama, Kusha. Moreover, it was a famous place in the Malla Empire.
Some legends say that Lord Buddha fell ill after consuming mushrooms served by a local person. Later, he recovered from the illness. But, he attained his final nirvana at Mahaparinirvana Temple, Kushinagar.
There is a small meditation park near the Mahaparinirvana temple. Devotees visit this park for a peaceful ambience.
In addition to this temple, Kushinagar has several other attractions. Matha Kuar Shrine is located at the Parinirvana Stupa. There is a statue of Lord Buddha, which is carved out of a single stone. Indo – japan Srilanka Temple, Chinese Temple, and Wat Thai Temple are some other attractions in Kushinagar.
Since Mahaparinirvana temple is a well-known pilgrimage site, many devotees visit the temple each year. One can reach Kushinagar by bus or train. Plenty of public and private bus services are available to reach the place from the surrounding areas.
If you want to reach it by train, the nearest railway station is in Gorakhpur, which is located at a distance of 30 mils from Kushinagar.
Numerous flights are also available from various cities, including Delhi, Mumbai, and Bangalore. The nearby airport is Varanasi.
Image Credit: Abhijit R. Padhye / CC BY-SA 4.0, via Wikimedia Commons
Image Reference: https://commons.wikimedia.org/wiki/File:Reclining_Lord_Buddha_-_Mahaparinirvana.jpg
What's new at WeRIndia.com