Centre allows Jallikattu back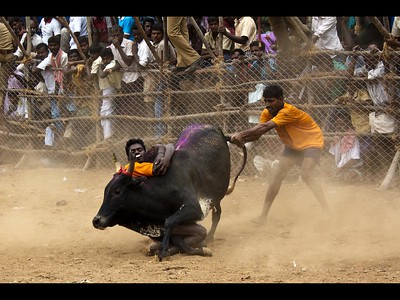 The Ministry of Environment and Forests has used the "culture and tradition" card to bring back jallikattu as the Pongal festival is nearby. The move by the Centre is now overriding the judgment of Supreme Court on May 7, 2014 which used the same reason to ban jallikattu and named it simply an act of cruelty shown to a dumb animal. The judgment was that this sport is against the Tamil culture and tradition which is to embrace bulls and not over-powering them as an act of human bravery.
Retired Justice Radhakrishnan stated that in Tamil tradition, Yeru Thazhuvu means to embrace bulls and not over-powering the bull. He added that giving proper care towards bulls is Tamil culture and tradition and that it is not approved in the culture to cause pain or suffering to bulls. He also noted the point that in Tamil culture, bulls are to be worshipped and the bull is always considered the vehicle of Lord Shiva.
The 117 page verdict indicates the court's resentment at the sudden change of standing of the UPA II government against its own notification issued on July 11, 2011 which exempted the 'bull' as a performing animal. UPA II government's reasons in court are similar to what the NDA government's latest notification suggests.
According to the Centre, it wants jallikattu back because of its historical, cultural and religious importance. Furthermore, the judgment even suggested that no unnecessary pain or suffering will be caused to the animals.
The argument of the Centre and its "abrupt" change in stand are slammed by the court. Justice Radhakrishnan stated that regardless of any number of regulations put in place, jallikattu cannot be free from cruelty. The Supreme Court stated the organizers of jallikattu and event itself do not mean well for the animal and that it is meant for human enjoyment.
Image Credit:- "Jallikattu is based on the simple concept of flight or fight or sometimes freeze" by Manu Manohar is licensed under CC BY 2.0.
Image Reference: https://www.flickr.com/photos/memyselfmanu/5366082001
Recent Posts

Pushpa Bhatt recently participated in the Ladakh ultramarathon,

SANECO is a unique waste management system. 

TummyFriendly Foods offers healthy and nutritious baby food.
What's new at WeRIndia.com