PM inaugurates the first multi-modal terminal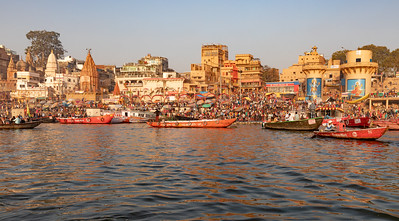 In order to promote inland waterways, Prime Minister Narendra Modi inaugurated the first multi-modal terminal in Varanasi on the Ganga River yesterday.
As waterway is a cheaper means of transport and is also eco-friendly, PM along with Union Transport Minister unveiled the project.
After unveiling the project, PM dedicated a multi-modal terminal to the nation.
He said that it is a historic day for the country. The country has extensive river network and since independence it has not been widely used for commerce at a large scale. At last, their government achieved this.
PM Modi received the first container vessel that carries cargo and started sailing from Kolkata to Varanasi on the inland waterway on October 30.
The vessel carried 16 containers. These are equal to 16 truckloads of food and snacks. The vessel will carry fertilizers from IFFCO in its return journey.
This is the first time for a container vessel to travel on inland waterways on the River Ganga.
The inland waterway is intended to improve cargo transportation.
The waterway, which has been named as National Waterway-1 is a water transport route between Haldia to Prayagraj.
Indian government is aimed to build multi-model terminals under Jal Marg Vikas Project along the stretch of the River Ganga between Varanasi and Haldia.
These terminals are useful for the navigation of large vessels weighing up to 1,500-2,000 tonnes.
The World Bank is providing investment support and technical assistance to the project. The estimated cost is ₹5,369.18 crore. Both the government of India and the World Bank are sharing the expenditure equally.
The project includes three multi-modal terminals at Varanasi, Sahibganj and Haldia in addition to two intermodal terminals and five roll on-roll off (Ro-Ro) terminal pairs.
The project implementing authority is Inland Waterways Authority of India (IWAI).
The project is estimated to generate 500 direct employment opportunities and over 2,000 indirect employment opportunities.
Image credit: Varanasi, India image by Ninara is licensed under CC BY 2.0
Image Reference: https://www.flickr.com/photos/ninara/47365984591
What's new at WeRIndia.com