Millions of Indians face annual floods by 2050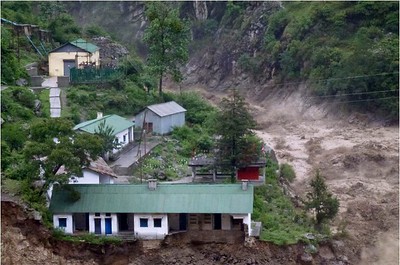 Global warming is increasing day by day due to which natural calamities including floods, earthquakes etc. are increasing.
The Climate Central study says if greenhouse gas emissions increase further, it would lead to severe floods in the coming years.
As per the study, around 36 million people and 44 million people would face annual flooding by 2050 and 2100 respectively if the emissions continue like this.
The emissions lead to a rise in sea level which results in pushing annual floods. As a result, 300 million people would become homeless in coastal areas.
Majority of people live in six Asian countries, India, China, Bangladesh, Vietnam, Indonesia and Thailand.
Around 237 million are living in coastal places that do not have defences. These people would experience annual coastal floods by 2050. This is more than four times the previous estimates based on old data.
As per the past estimates, it was about 80 million. The study findings are individual assessments from 135 countries in various climate situations and years.
150 million people could have a risk of occupancy of high tideline above the land permanently.
This study reiterates the recent IPCC report that highlighted the changing nature of oceans.
The data showed that the sea level had risen around 15 cm during the 20th century across the globe. However, it is rising at 3.6 mm per year, i.e. more than twice the speed. It is accelerating further.
Even if the emissions are reduced well and global warming is controlled to below 2 degrees Celsius, the sea level would rise around 30-60 cm by 2100 as per the estimation.
The ground which is home to many people now would be loaded with floods as tideline rises higher than that. The question is whether coastal defences protect the people that stay in these regions.
Image credit: INDIA-DISASTER-FLOOD image by Diariocritico de Venezuela is licensed under CC BY 2.0
Image Reference: https://www.flickr.com/photos/diariocriticove/9079683461
What's new at WeRIndia.com