Ceasefire violated by Pakistan again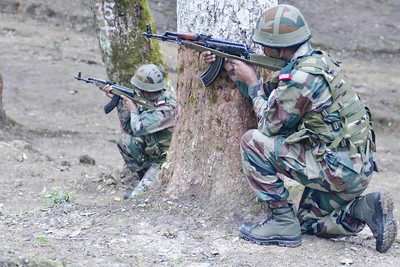 Pakistan has once again violated the ceasefire at Line of Control. Indian Army also strongly retaliated to the firing and shelling Pakistani troops did. Since the surgical strikes, the situation near the border has been very intense.
The surgical strikes left Pakistan in a very embarrassing position. They gave a warning to India about dire consequences and since then there have been continuance cross border firing incidents from Pakistani troops violating the cease fire law.
A senior unidentified officer tweeted that Pakistan has violated ceasefire and resorted to firing, shelling along LoC in Sunderbani sector in Jammu.
This is the sixth ceasefire violation by Pakistani troops at Rajouri in just the past week. The violation of Pakistani troops came moments after Pakistan Prime Minister Nawaz Sharif addressed his Parliament first time after the Indian Army conducted surgical strikes.
Even with so many violations, luckily, there have been no reports of any casualties from Indian side. But heavy firing was reported along the LoC many times.
Pakistani troops attacked the border on Monday as well. Their attacks even escalated to mortar and shelling on Army posts and civilian areas along the LoC. Three areas in Noushera sector in Rajouri were attacked on Monday.
On Monday, Pakistani troops conducted unprovoked firing. An Army spokesperson confirmed that Pakistani troops have indeed fired mortar bombs and Indian army retailed with their own force. Rajouri saw six violations of ceasefire.
The violation of Pakistan on Sunday led to five civilians getting injured. Several shops were also burned after a launched shell made an oil container catch fire.
Pakistani troops attacked at Pallanwala on October 2. On October 1, mortar bombs, RPGS and HMGS, and small arms were fired at civilian areas. On September 30, Pallanwala, Chaprial and Samnam areas were attacked. On September 29, firing occurred in Balnoie area.
Image credit: Indian army demonstrates cordon and search techniques image by 1-2 Stryker Brigade Combat Team (Public Domain Mark 1.0)
Image Reference: https://www.flickr.com/photos/ghostbrigade/29668462401
What's new at WeRIndia.com