AAP government ignores advt. rules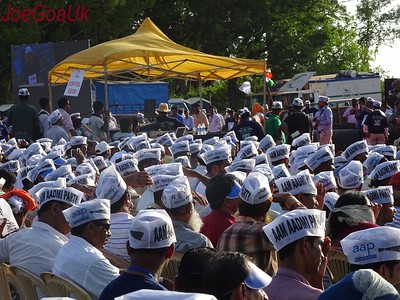 Despite the protests of the opposition parties, the Aam Aadmi Party (AAP) is continuing to ignore the advertisement rules while giving ads on government schemes.
The Kejriwal-led AAP government proposed to offer free metro and bus rides for Delhi women. In this context, the government sought the suggestions of the public. For this, the government is giving advertisements.
Instead of providing a government email id, a private email id has given. And people are asked to send to a private email Id – delhiwomensafety@gmail.com by June 30, 2019.
The advertisements are featured with the images of the Delhi Chief Minister Arvind Kejriwal and can be spotted at several places of the capital.
The BJP opposed this saying that the AAP government is using public funds to give big advertisements like a private limited company. Moreover, it is collecting the data of the public through private email id. The data may be misused by the party in the upcoming Assembly elections, says BJP.
The BJP alleges that earlier also the AAP government collected information about children and parents of the Government schools through a letter written by Deputy Chief Minister Manish Sisodia. And the data was misused in the Lok Sabha Elections.
Similarly, this time also, the data may be misused. Such type of public advertisements should not be allowed through private email ids says the opposition.
Hence, Delhi BJP President Manoj Tiwari had demanded Lt. Governor to intervene in this matter. He said that the public fund is being used to give advertisement and the data collected should be used only for the interest of the government.
The proposed free metro and bus travel of Delhi government has attracted various comments from the public. Several people are criticizing that the government proposed this scheme without having a proper blueprint and this is just to attract women voters in the next assembly elections.
Image credit: AAM AADMI PARTY meet at Campal image by Joegoauk Goa is licensed under CC BY-SA 2.0
Image Reference: https://www.flickr.com/photos/joegoauk70/27078124832
What's new at WeRIndia.com