Sweet potatoes for beauty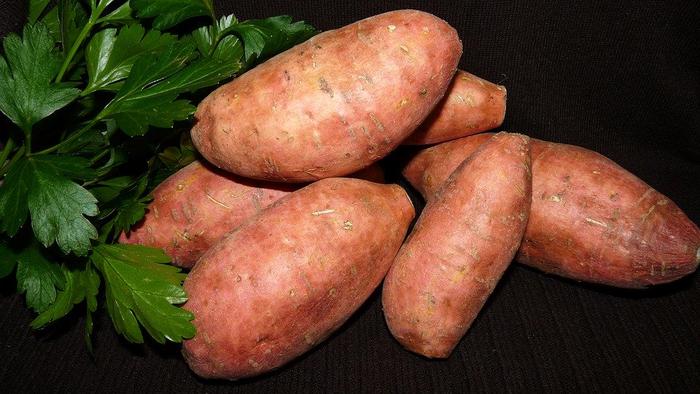 Sweet potatoes are rich in many nutritious elements. As a result they have many beauty and health benefits. They are rich in magnesium, phosphorous, potassium, sodium, zinc, copper, biotin, fibre and omega 3 fatty acids. When it comes to vitamins they also have vitamin A, B, C and K. They are also a great source of beta-carotene and anthocyanin.
Anthocyanin is helpful in fighting pigmentation and gives the skin a radiant look and has many anti-inflammatory benefits to the skin. The anti-inflammatory properties of sweet potatoes are also useful in fighting free radical damage which helps prevent premature ageing. Let us take a look at some of the health benefits of sweet potatoes.
They can treat oily skin
Sweet potatoes can be helpful in treating oily skin. You can use them by first boiling them and mashing them. Mix it with a tablespoon of honey and apply it on the entire face to fight off oily skin.
They can treat cracked heels
If you have dried and cracked feet, then you can use sweet potatoes to treat them. Boil sweet potatoes and soak your feet in the water that boiled them. Leave them in for a few minutes. Do this regularly to treat cracked heels.
They can treat dark circles
Sweet potatoes have anthocyanin which reduced pigmentation. This will help you fight off dark circles, wrinkles, and puffy eyes.
They can fight premature ageing
Sweet potatoes have the ability to give a rejuvenating look to your skin. They are able to fight off all signs of ageing. Mix paste of sweet potatoes with milk and honey and apply this mixture on skin.
They keep skin hydrated
Sweet potatoes when mixed with yoghurt can help keep your skin moisturized. Use it if you dry skin.
They can treat dry hair
Sweet potatoes have the ability to nourish hair. They can be used as a hair mask.
Image Reference: TheFoodDoctor
Recent Posts

People can enjoy food, shop and watch movies

Despite the opinions of some political leaders that

The Delhi police issued a traffic advisory yesterday
What's new at WeRIndia.com