Natural Astringents for skin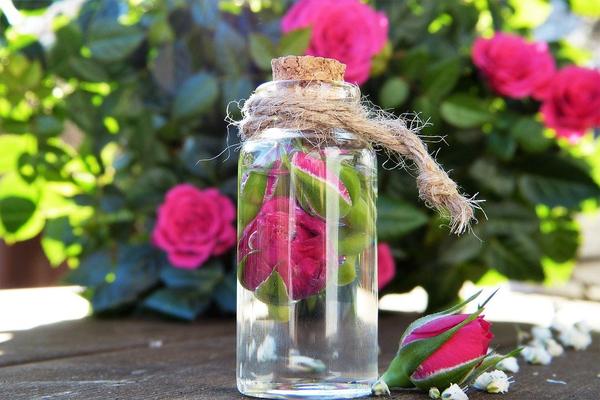 An astringent cleanses the skin and makes it smoother. It is useful for oily and acne-prone skin. One of the most common causes of acne is the bacteria in skin pores as they contain dirt, oil, and dead skin cells. An astringent can effectively help combat this situation.
It helps tighten pores, thereby preventing dirt from entering them. Thus, an astringent prevents skin infections and irritations.
Most astringents available in the market are alcohol-based. In other words, they contain alcohol. So, start using a mild astringent in the beginning. If your skin problems are not resolved with the low amount of alcohol in the astringent, gradually increase the amount of alcohol or use it more times.
Natural astringents are always a better choice than chemical-based astringents due to their no or lower side effects.
Here is a list of some natural astringents for healthy skin:
Rose water has been used for skin care for ages. Applying rose water to your skin helps maintain the pH level of the skin and reduce inflammation. It also cleanses your skin and makes it glow.
Green tea is loaded with catechins which keeps your skin firm. It is a rich source of antioxidants that protects you from free radicals and thus from fine lines, wrinkles etc. Green tea also acts as a skin toner. Apply it topically to prevent acne and UV rays of the sun.
Citrus juices like lemons, oranges etc., can reduce acne breakouts and refresh skin. Apply fresh juice to your face and wait for two minutes. For better results, add witch hazel to citrus juice. Then wipe it off.
Apple cider vinegar is another effective natural astringent. It balances skin pH, cleanses pores and fights against skin infections. While opting for apple cider vinegar, choose an unfiltered and non-distilled one with a dark reddish-brown colour.
Cucumber is beneficial for the skin. It can reduce wrinkles, fine lines on the face, and dark circles around the eyes. Rub gently with slices of cucumber on your skin twice a week.
Image by silviarita from Pixabay (Free for commercial use)
Image Reference: https://pixabay.com/photos/rose-water-glass-blossom-bloom-3411891/
What's new at WeRIndia.com