Benefits of curry leaves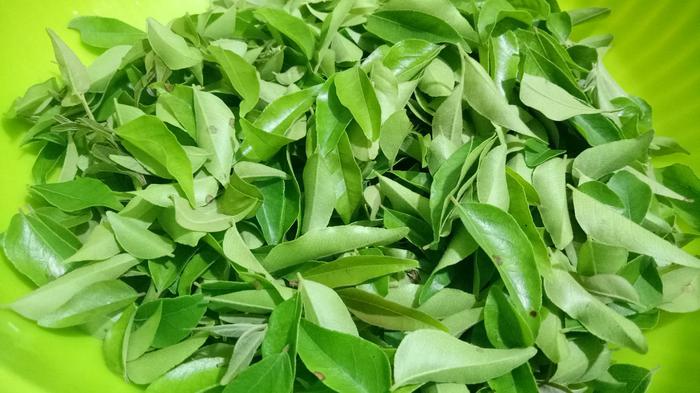 Curry leaves are a very common spice in the Indian cuisine. It adds a nice flavour to many curries and dishes.
However, do you know that there are a wide range of health benefits carried out by curry leaves. These leaves are used to treat many different ailments. Read on to find out what benefits come from curry leaves.
Detoxifying your body
Curry leaves are great for removing toxins from your body. This keeps your body fresh and also promotes weight loss by reducing fat storage.
Improves digestion
These leaves are commonly used in cuisine because of their ability to boost digestion. Tea made with curry leaves is very good for health. It helps with digestion and fights diarrhoea.
Controls blood sugar
Diabetics get a lot of benefits from curry leaves. They can prevent the spikes of blood sugar when you eat something with a lot of sugar in them. It also helps fat from getting accumulated.
Powerful antioxidants
Curry leavers have a compound called carbazole alkaloid. It is good for removing free radicals in the body and killing bacteria. This is why the leaves are good at protecting from infections.
Can heal wounds
If you make tea with curry leaves, you can use the boiled leaves for making a paste. This paste is capable of healing minor wounds, cuts and even burns. This is because of the mahanimbicine in it.
Fights constipation
These leaves can act as a mild laxative. As said above, they are good for digestive health. However, they are also good for fighting constipation. It can help provide relief in case of food poisoning.
Reduce stress
If you find yourself in a stressful life, then add curry leaves to your diet.
They can help reduce stress from your body.
Tea with these leaves is also very good at relaxing mind and body.
Photo by Lasitha Nipun Dilshan from Pexels
Image Reference: https://www.pexels.com/photo/leaves-curry-leaves-3027225/
Recent Posts

NEFT (National Electronic Fund Transfer) is an electronic

Drinking a hot drink especially, hibiscus tea helps

Entrepreneurship is the dream of many people. While
What's new at WeRIndia.com