Young People for Life India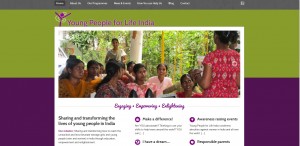 Young People for Life India is a National Charitable Trust established by Shobha Gosa from Hyderabad, with an aim to transform the lives of youth in India as well in the world. It is run by Women Practitioners who are committed to the empowerment of youth especially the teenage girls and young women with poor background.
All their programmes are approached by following the three 'E's – Engaging, Empowering and Enlightening.
Their programmes are designed in the following areas: Education and Training, Gender and Women Empowerment, Human Rights, Justice and Peace, Health and Social Care, Environment and Ecology, and Children and Youth Development.
They conduct workshops and seminars on various issues that affect teenage girls and young women, and training programmes to improve their skills and health. They also provide career guidance to them.
There are many ways to participate in their activities.
One can organize an event to fund their projects or spread awareness about their programmes and current needs of their projects.
They can collect resources in the form of books or electronic media. One can volunteer to participate in their programmes.
Their projects are sponsored by donations from people.
Anyone can donate to them and thus participate in their activities. Anyone can join any / all of them voluntarily.
What's new at WeRIndia.com