World's shortest bodybuilder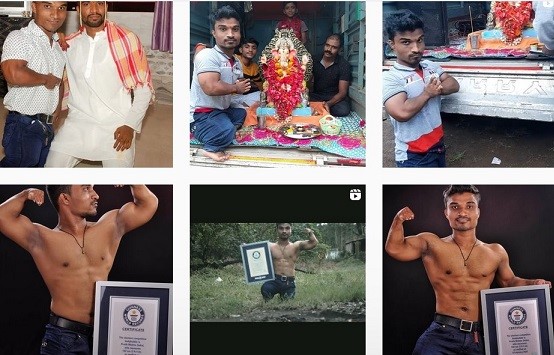 While some people worry about their weakness, some others overcome it with their courage. Pratik Vittal Mohite falls in the latter category. This 25-year-old man stands at less than a meter tall, but he achieved a world record. He has gained entry into the Guinness World Records 2022 for being the shortest bodybuilder.
Pratik was born with shorter arms and legs. His height is 3 feet and 4 inches. But he was never disappointed with his disability. He was an avid cricket lover, due to which he started physical exercises. He developed an interest in bodybuilding gradually and succeeded.
However, his success was not easy. He struggled a lot for that. He wanted to stay fit and started with mild exercises.
It was difficult for him to train with dumbbells. He could not hold dumbbells due to a lack of grip in his hands. Besides, his friends and neighbours used to make fun of him. But he developed strength gradually and achieved it with strong determination. He won several awards in various bodybuilding competitions.
Initially, he did not focus much on bodybuilding seriously. Later, he understood the value of exercise and want to become a bodybuilder.
He participated in at least 41 competitions. Besides, he appeared as a guest in several national championships.
He was a bit nervous when he was giving his first performance and thought that the audience would laugh at him. But, they did not laugh at him. Rather, they encouraged him with their claps. He then realized his skill and began feeling that he was special.
Pratik's parents supported him a lot and instilled confidence in him. He was unhappy about his friends' comments and jokes in his childhood. But, now he is one of the achievers. When people stare at him, he feels proud of himself and special. He worked hard to change his fate. Now he has worldwide recognition for his achievement.
Pratikmohite Instagram page screenshot
Image Reference: https://www.instagram.com/pratikmohite_official/
What's new at WeRIndia.com