Woman earns lakhs with an investment of ₹200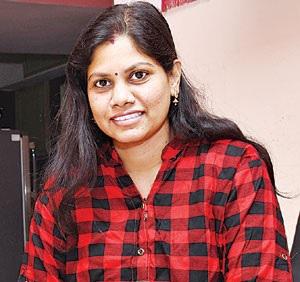 There is a motivational story behind the startup of Asha Sekuru from Guntur.
She started Tanvi Naturals with an investment of ₹200 in 2014 to provide natural products to newborns and moms. Now, she is earning lakhs of rupees.
Her husband is a businessman. He opened a branch in Hyderabad for which the couple had to shift and reside there.
At that time, she became pregnant. She used to go to yoga during her pregnancy. Due to her yoga training, she came to know that rather than consuming iron and calcium supplements, it is better to obtain them from foods naturally.
One month before her delivery i.e. in her eighth month, her husband's business partners deceived him. As a result, they lost ₹80 lakh.
When she came to know this loss, she could not bear it and cried a lot. As a result, she delivered a baby girl immediately in the eighth month.
The babies born in the eighth month normally have a risk of life. But, her baby is healthy with a weight of 2.6 kg due to her yoga and food taken during pregnancy.
They had severe financial troubles at that time. They didn't have money to even buy milk powder for their baby.
In the meantime, her baby's skin texture turned black due to the use of baby products available in the market.
She felt very bad for her baby and inquired about the possible remedies with her husband's grandmother and her grandmother.
Learning natural methods from them, she first made an almond oil with the help of a machine that works manually.
She applied this oil to her baby and within few days her skin texture turned bright. Seeing the result, her friends also asked for that oil.
Then, she started a business with ₹200 with which she bought the essential raw material and made natural soaps.
She sells two types of kits, mother kit and baby kit on Facebook. Mother kit includes soap, herbal ubtan, stretchmark oil, face pack, hair oil, lip balm and kajal. Baby kit includes soap, herbal ubtan, bathing powder, hair oil, diaper oil, shampoo, shampoo bar, black bindi and baby kajal.
Now, she has modern machines, and is earning lakhs of rupees.
Image Reference: Eenadu
What's new at WeRIndia.com