This female auto driver offers free rides to women and elderly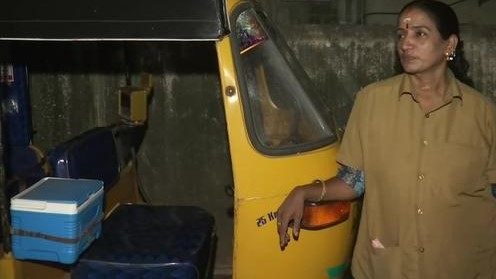 Recently, the story of a female auto driver has been posted on many news channels. Her story is garnered praise from netizens.
Raji Ashok from Chennai has been driving an autorickshaw for 23 years. This 50-year-old auto driver offers free rides to girl students, women and the elderly after 10 p.m. She also offers free rides to people who rush to hospitals in times of emergency.
Raji is a B.A graduate. However, she did not find a suitable job in the city. Hence, she decided to drive an autorickshaw to support her family. Her husband is also an autorickshaw driver. The couple moved from Kerala to Chennai.
One day while returning home in the night, Raji saw a girl in an auto. She could see anxiety and fear in the face of the girl as she was alone in the auto.
Then Raji realized the need for secure rides for girls and women during nights. She then decided to offer free rides to girl students and women who return home late in the night.
Thus, she started a free-riding service for them. She shared her mobile phone number with female travellers and asked them to contact her if they needed a ride in her auto.
If anybody contacts her requesting a ride with an hour's notice, Raji will attend to them. She never refused a ride to female travellers.
She offers free rides to girl students of government schools also. So far, more than 10,000 girls and women have taken a ride in her autorickshaw during the nights. Her husband supports her very much.
Raji also trains interested women in auto driving as no driving schools offer this course. Many organizations invite her for motivational speeches. She inspires several people with her speeches and deeds. Raji is fondly called 'Raji Akka' (Sister Raji) by people for her services.
Image Credit: ANI on Twitter
Image Reference: https://twitter.com/ANI/status/1502325543412592640/
What's new at WeRIndia.com