Telangana man's e-net service helps rural people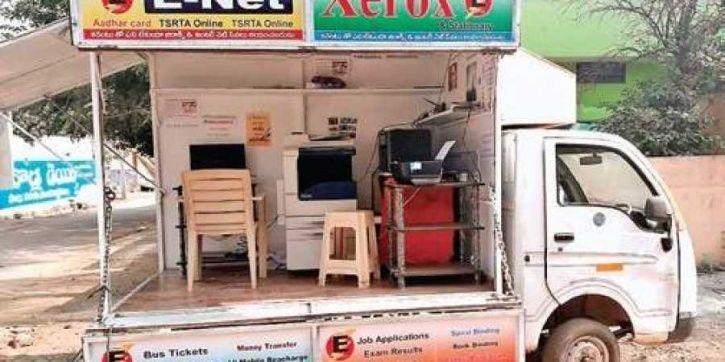 Internet is still a problem in most rural areas. To help rural people use internet services, this Telangana man started a unique service, e-net.
Aleesh Babu from Khammam initiated a mobile internet service van to help unemployed people and job aspirants.
Aleesh was applying for a job and he had to photocopy a document in that process. But, he did not find a shop to do so in his areas. At last, he found a shop in which there is no electricity to photocopy his document.
As a result, Aleesh Babu could not apply for the job on time and lost the opportunity.
Then, he decided to do something for job aspirants like him. He got an idea of starting the e-net service.
He then visited a bank and pitched his idea to them. They immediately approved it and sanctioned a loan to start his business.
He started his business with an investment of ₹6.5 lakh. His truck contains a computer, a printer, a photocopy machine, and an internet connection.
He scans newspapers daily. He announces the location, time of the job advertisements and interview opportunities to the youth. Based on the location of the employment opportunities, he visits the places on that day.
He travels across Khammam district. He charges ₹2 per prints and photocopies.
He is making around ₹30,000 per month. However, most of the earned income is used to pay the EMI of his loan and to buy diesel for his truck.
Yet, Aleesh expresses his satisfaction on whatever he is earning. He says that it is not a matter of money, but he aims to help the youth and job aspirants in rural areas. He felt that he is doing something right and helping them in crucial stages.
Image Reference: Indiatimes
What's new at WeRIndia.com