Punjab Doc fights female foeticide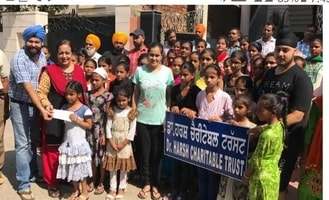 Despite several efforts of the government, female foeticides are quite common in India, especially in some states like Punjab and Haryana where girl children are considered as a burden.
Nobody in the remote areas cares for the pregnant women who don't want their baby girls to be killed.
But, this doctor has a concern for female foeticide and she has been fighting for it for a period of 24 years. She fostered more than 400 girls.
Dr Harshindar Kaur is a child specialist. She visited a remote village along with her husband on the border of Punjab and Haryana where there are even no basic medical facilities.
At that time, the couple saw a shocking incident of dogs tearing a newborn girl. Then, the couple approached villagers and questioned about this incident how could this happen.
To their surprise, the villages told them that a poor family left that girl who might not want a daughter.
Until then, Dr Kaur was organizing free medical camps in remote areas around Punjab. But, this incident changed her mission.
She decided to provide medical aid to fight female foeticide and advocate the rights of the girl child in the remote areas and villages.
Sex-selective abortions were recorded highly in these states between 1996 and 1998 despite the laws like the PCPNDT are in place.
Not just that, the newborn girl children are neglected by the family members even after their birth. They are not brought for free vaccination, provided nutritional food, and are denied medical care during ill-health.
Moreover, the mother is blamed for giving birth to a girl due to ignorance.
Observing all these facts, Dr Kaur chose a village near Patiala and worked there for five years, convincing and educating the villagers.
Due to her efforts, the sex ratio of girls to boys rose from 845/1000 to 1013/1000 within five years.
She also tried to eliminate the root causes like the dowry system.
She along with her husband started the Dr Harsh Charitable Trust to provide quality education to the underprivileged girls in Punjab.
Image Reference: Thebetterindia
What's new at WeRIndia.com