These people fight government to help their DGP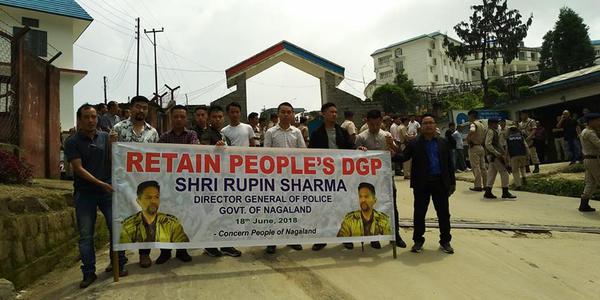 The story of an honest, upright, and genuinely-good cop tackling a corrupt system is a classic.
A real-life case of this is occurring in Nagaland today, although it is less dramatic than the stories typically told in movies.
Rupin Shamra, the Director General of Police (DGP) of Nagaland, has received incredible support from the people ever since he was appointed to the post.
Sharma was appointed to the post of DGP on November 24th, 2017. Before he became the DGP of Nagaland, he first served as Director General of Prisons and Superintendent of Police in the Peren district.
Sharma's most notable achievement so far is when he led the CBI that team traced Abu Salem, the infamous gangster, in Portugal. Sharma also played a significant role in extraditing him back to India. However, Neiphiu Rio, the Chief Minister of Nagaland, composed a letter with other senior ministers and officials and sent it off to the Center.
They asked the Center to transfer Sharma out of Nagaland, since they said that his experience of serving the state is very limited. His support from the public has caused many people to ask the State government not to transfer him.
Concerned citizens, civil society groups, and even Nagaland police personnel are demanding that Sharma stay in Nagaland.
Sharma's supporters among the public also strongly disagree with the State government's reasonings.
They suspect that the government wants Sharma to be transferred because he has formalized the recruitment process in the State police.
The State police is one of the biggest employers in the State.
As Sharma has formalized this process, he has brought an end to any backdoor appointments into the police, which has been a major source of corruption.
The people of Nagaland are protesting Sharma's transfer, gathering outside the police headquarters and petitioning to the Center.
Hopefully, their protests will be worth the while, and Sharma will be allowed to stay as the DGP of Nagaland.
Image Reference: TheBetterIndia
What's new at WeRIndia.com